We were lucky enough to be invited along to see 'Children are Stinky' at
Norden Farm Centre for the Arts in Maidenhead
. The show is produced by
Circus Trick Tease
, a circus and acrobatic theatrical company from Australia. They made their debut at Melbourne Fringe back in 2008, and after successful circus shows world-wide, they have now turned their focus towards children's theatre. Their show, Children are Stinky, has won many accolades including the Children's Choice Award at the Edinburgh Fringe. Children are Stinky is one of the many shows that Norden Farm are offering as part of their
school holiday schedule
.
We arrived at the theatre with our two year old. We were excited but didn't quite know what to expect from a show called 'Children are stinky'. Little C instantly recognised the theatre from our previous trips to see their regular Concertinis and also to see their Excited for a trip to the theatre
Christmas show Miki
. Whilst waiting for the Courtyard Theatre doors to open, we enjoyed some coffees at the cosy cafe bar. We entered the auditorium to be shown to our seats where we had a great view of the stage. In fact the whole set up of the theatre led to everyone being able to see, and it was small enough to lend a degree of intimacy to the show so you could really feel part of it. Whilst we were waiting for the show to begin, we enjoyed looking at the stage which had already been set up. There were some puppets, balloons, and a black screen with a chalkboard. There was also a bit of naughtiness (from the stage and not from the kids in the audience I hasten to add) – look out for some surprises whilst you wait for the performers to come on stage!
Children are Stinky is a wildly hilarious live-action circus show. It is a comedy, led by main characters Kylie and Jason. It's set in the 90's with music that most parents will remember and secretly love. (I was so chuffed to hear Roxette – Dangerous as this is STILL one of my favourite songs however many years on!). It talks about how Children are stinky, unimaginative, lazy and have other traits but in fact at the end of the day are also awesome. Circus Trick Tease describe the show as 'packed with lightning fast hula-hooping, dare-devil balances, astounding strength and incredible acrobatics'. Those hips definitely didn't lie and the show delivered all of this. Both children and adults alike enjoyed acrobatic skills delivered with lashings and lashings of comedy. The show's characters called on volunteer children from the audience to join them in their tricks and you could see how much the children enjoyed being part of the show. There were jokes galore, including one cheeky joke about guessing the missing letter in the word 'boo*s' when talking to one of the dads (Spoiler: the word was ACTUALLY books and not what the dad thought it was). Both Little C and us parents enjoyed the show immensely and it had many laugh out loud moments. I'm sure the final scene was reminiscent of Kylie and Jason's scene in Neighbours too. What memories! What's the show about?
I would definitely give Children are Stinky a 5 star review. The performers are great with the children and can pitch the show to be silly and entertaining yet never patronising. The tricks are amazing, including one where 'Jason' does a hand-stand on top of a pile of stacked up chairs. The moment when Kylie stood on Jason's head was also quite impressive! Yes, it did happen! The show was 50 minutes long which was perfect for our little one's attention span (give or take 5 minutes). The jokes were funny, the tricks awesome and a good time was had all round. We would definitely recommend and also hope to catch it again one day. 5 Star Review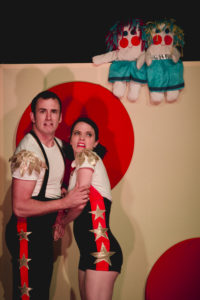 To find out more about Children are Stinky, you can view the Where do I find out more?
Circus Trick Tease
website. You can also join the stench on the Children are Stinky
Facebook
,
Twitter
and
Instagram
pages. Just remember the peg for your nose! Norden Farm run many events that are suitable for the family. It is based locally and caters for children of all ages. There are also lots of shows and activities for adults too (we have previously particularly enjoyed seeing comedians there!). To find out more about their family friendly events,
see their School Holiday schedule
. Happy Family Hub have also included Norden Farm and much more in our
May half-term What's on guide
 so feel free to check this out for more great ideas. *Norden Farm gifted us theatre tickets in exchange for this review. However, all views and opinions are my own.*