Wriggle Dance Theatre has delighted audiences far and near this year with their new tour for 2022. Squidge the show, which is aimed at 3-8-year-olds and their grown-ups, is based on the sense of touch. We were lucky enough to see them perform when the tour came to Warwick Arts Centre in Coventry. So what did we think? Find out in our review of Wriggle Dance Theatre – Squidge!
Review: Wriggle Dance Theatre – Squidge at Warwick Arts Centre
Wriggle Dance Theatre ( Who is Wriggle Dance Theatre?
who we recently interviewed for this Q&A
), led by Co-Directors Kath Kimber-McTiffen and Lucy Knight, is a Northamptonshire-based company. They primarily tour their musical-based performances and workshops in libraries, community halls, schools and other educational spaces. We first learned of their work a few years back purely by accident when we stumbled upon a performance of 'Out of This World' in Stratford-upon-Avon Library, sponsored by Warwickshire Libraries / Warwick District Council. My then three-year-old and I 'travelled' via an interactive dance spaceship to inter-galactic territories where we met astronauts, played with aliens and even disappeared down a black hole! It was like nothing I'd ever seen before. Since then we've also seen
Rainbowfish Goes Adrift
, about plastic waste in the ocean and also took part in their lockdown project Wriggle at Home. So, when I heard about their new project, we just had to go along!
The new show for 2021/22, 'Squidge' is full of song, dance, adventure and props galore. On entering the theatre the audience was invited to sit in family groups on individual mats spread out within the studio. Each mat had three boxes with holes on top. Two dancers and one musician explore the senses of touch, one by one, in a very playful manner. Sticky slime, stretchy string, bubbles, feathers – everything is explored by both the performers and the audience. Participation is encouraged but you never in an embarrassing way, everything is done very subtly and inclusive. What is the Show About?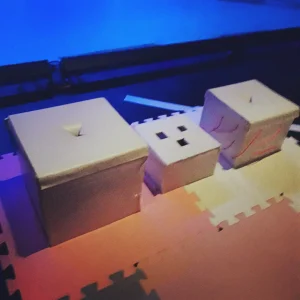 The show is again a masterclass in storytelling. The gentle, rhythmic nature of Squidge makes for an enchanting watch. The audience was very engaged, both adults and children alike. The audience was surprised by a stick man scene, which was very magical to watch with a dancing stick man (light trick) on some boxes. Little C could not work out the magic and found that particularly amazing! The dancers and musician were a delight. Everyone left with a smile on their face. Once again a very wholesome, feel-good show! What did we think?
You can find out more about the company and their shows on the How can we find out more?
Wriggle Dance Theatre website
. Or, you could view the latest information on their
Facebook page
. We can't wait to see the next production and will keep our ears and eyes open! Have you seen Wriggle Dance Theatre in action? Let us know using the comments box below or by visiting our
Facebook
,
Twitter
and
Instagram
pages.
We are very lucky to have such a wonderful family-friendly local arts venue in our locality. There are many performances and workshops for a family audience and more for those adult-only 'date' nights. You can check out what's coming up on the Warwick Arts Centre
Warwick Arts Centre website
and
Facebook page
.