To celebrate Local Radio Day, we were lucky enough to take part in a tour of the
Eagle Radio
studios based in Guildford, Surrey.
What does radio mean to me?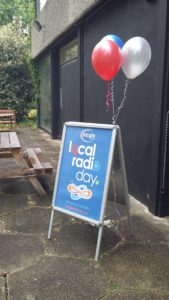 Radio has always been a HUGE part of my life. I have been listening to radio since I was tiny and have done daily for many hours since. A couple of years back, I took part in a community radio course at Eagle which resulted in presenting on a community radio show. I then was a radio presenter at
Insanity Radio
,
Hospital Radio Reading
and also did some voiceover work for Neal Veglio's podcast 'Chaos & Theory'. One thing that always strikes me about radio is like how it can have every trait you'd wish for as a friend. By this I mean a great taste in music, informative, funny and great to listen to!
Something for the community
Eagle Radio is a great example of SUPERB local radio at the heart of the community. They have always, and continue to be, based in the local area and immerse themselves in everything that's going on. From attending local events to covering important local news stories, they are part of the glue that holds the community together. One example is the recent 'Together for Freddie' campaign where they helped the fundraising efforts (on
Freddie Friday
) to send local boy Freddie to America for treatment of a brain tumour. They even once made me cry as, a few years back when I was one of the volunteers for the Egham Hythe Flood Relief Centre team, they played 'Heroes' by David Bowie. I was so overwhelmed with sadness and exhaustion at the relief effort at the time. Then hearing that song made me very proud and happy at the same time. What power local radio can have!
Step this way, the tour is about to begin
When we arrived, we were greeted by DJ and community tutor Jack Johnson who gave us a huge welcome. He gave us a tour of the offices, where we met each of the teams who ran the radio station. Greer, who looks after the digital content for the station, then talked about everything Eagle does online. We had a glance of the great local content that website visitors were reading. We then met Carol Musgrave, Journalist who researches, writes and reads the news. She spoke about how she produced the news bulletins and also about which ones she's particularly enjoyed. She described her highlight as the Royal Wedding of Harry and Meghan which she got to cover last weekend!
Fun in the studios
After a talk on all of the other functions of the buzzing Eagle Radio office, we were then led into the studio. We first walked past Studio 1 where Adam Morris was presenting the mid-morning show. He was playing 'Love Changes Everything' by Climie Fisher (great song!). After entering Studio 2, Jack then gave us an interesting talk about how a radio show was made. We learned about scheduling music, sweepers (the bits in between the music like the jingles), links (where the DJ does the talking) and how everything is timed to fit everything in including the news bulletins. Visitors to the studio today have even been getting the chance to get 'hands-on' try out a bit of presenting for themselves (which I did!). We then enjoyed a talk about 'The Power of Sound' by Stu. He is one of the staff who looks after creating advertisements for local businesses. We all wore blindfolds to accentuate our 'hearing' sense and he played a very interesting sound clip to show us how powerful radio can be in making us think we're somewhere we're not!
After the tour, Jack invited us back into the main Eagle office to meet and talk with various presenters including Karl Stiles, Morning Matt and Breakfast Bev. We even met the man himself PG (who incidentally is as loud and extrovert as you think he might be!). They are all lovely and were very pleased to speak with everyone and answer any questions we had. We all then had cake. Perfect. Video definitely didn't kill the radio stars
Long live local radio!
It was a great experience, and definitely showed how Eagle Radio is part of the community and therefore a perfect place to celebrate Local Radio Day! We feel very honoured to have had a chance to experience this. I feel especially happy that my daughter could too. It's not every day a toddler is let loose in a radio studio but she too got to take part and experience it as well. Radio is fab. When it is part of the community too it's even better. Long live local radio! What does local radio mean to you? Let us know by using the comments box below or join in the conversation at @happyfamilyhub on
Twitter
,
Facebook
and
Instagram
!