What words do you conjure up in your mind when you think about Henley? I can pretty much guarantee that the word 'river' definitely comes up. The River Thames flows majestically through the town and the whole town's history revolves around it. The town is a world-renowned centre for rowing and each year hosts the famous Henley Royal Regatta.
But did you know that it also has its own wonderful gem of a museum dedicated to the river and the sport of rowing? We first heard about the There's a bright golden haze on the Meadow
River & Rowing Museum
from one of our friends as a family-friendly place to visit. It is a great destination for both wet weather and fine days and you can also combine it with a trip to the town itself. It is based on Mill Meadows which is perfect for feeding the ducks, playing in the park and enjoying the carousel rides (perfect for the little thrill-seekers!).
The museum is jam-packed with lots of interesting things to see and do. There are four permanent galleries – dedicated to rivers, rowing and information about the history of Henley-on-Thames. There is also the wonderful Wind in the Willows 3D exhibition (more about this in a moment) and lots of temporary exhibitions throughout the year. What's inside?
When we visit, our first stop is always to borrow a free backpack. The museum provides bags on request to children, and each backpack contains toys and activities to enjoy during your visit. The best thing however (in our child's eyes) is the magnifying glass! Little C enjoys holding her magnifying glass to help her explore the museum.
Fun activities for everyone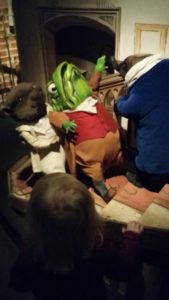 In all my years of museum visiting, the Wind in the Willows attraction has got to be one of my favourite exhibitions. It is a 3D wonder and must be seen to be appreciated! It tells the story of the famous novel and contains many moving features and wonderful 3D scenes of the tales of Mr Toad and friends. A popular feature is also a little caravan which children can climb up into and make pretend cups of tea for their family and friends. We also check out the exhibition downstairs. At the moment, there is a Barbara Hepworth exhibition (again with lots of child friendly crafts and activities). We have also previously enjoyed displays about The BFG and Peter Rabbit in here. When we go upstairs we always gravitate towards the Discover Hands-On space. This is a huge room where activities are constantly being updated. Little C is a DIY expert with a tool bench. There is also a puppet theatre where children can put on a play, shop in the bakery and grocers, explore the objects, smells and sounds of Henley's past or enjoy a book in the story corner. There are three large rooms upstairs too, dedicated to rivers, rowing (including a replica of an old boat race boat!) and the history of Henley. As well as the numerous child-friendly features, there is also lots to entertain and educate adults. Children can also play in a wooden rowing boat with oars, or race each other on an interactive rowing game. This month we have been enjoying a local Yarn-bombing community craft project at the museum. There are lots of hand-knitted, crocheted and quilted items including boats, animals and food items. Little C had great fun playing with a hand-knitted picnic basket and all its food.
Family-friendly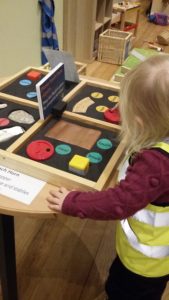 As well as the child-friendly exhibitions and hands-on goodies, there are many other features that make the museum suitable for families. When I say 'family-friendly', I mean this too – the staff are so friendly and welcoming to children (and their adults) which is a credit to them. They also have a dedicated buggy park and baby changing facilities on both floors. The museum has a cafe too with children's meals and snacks, highchairs, bottle-warming and free drinking water. Children can also attend the Taylor Tugs Under 5's Club This takes place on Wednesdays between 10 and 11.30am (pre-booked tickets only) and between 3 and 4 pm (drop-ins) during term-time. The club is suitable for age 18 months – 5 years and costs £3. Children can enjoy craft, stories and songs with a different theme each week.
At time of writing, the following events are currently taking place at the River and Rowing Museum: What's On?
As well as exhibitions, there are also one-off events such as
You can visit the Where can I find out more?
River and Rowing Museum website
, or you can also follow their
Facebook
,
Twitter
,
Instagram
,
Pinterest
and
Linked In
pages where you will find all the latest updates. At time of writing, adult tickets cost £12.50 and child (age 4-16) tickets cost £9.95. Tickets are valid for 1 calendar year and you can visit as many times as you like. Free parking is included in that cost. The museum is open 7 days a week, from 10am – 5pm.
Postal address for SatNav: Mill Meadows, Henley on Thames, Oxfordshire RG9 1BF, UK
Have you visited? Let us know using the comments box below!