Pinewood Miniature Railway has been running trains in Berkshire for over 25 years. They are based at the Pinewood Centre, which is between Crowthorne and Wokingham. The train line runs through a mile and a half of woodland, so it is a very magical setting.
When do they run?
They run trains on the third Sunday of every month, starting in March and ending in October. On opening days, they operate between 1.30pm and 4pm. They host birthday parties on certain weekends (where your child and his/her party guests get exclusive use of the trains for 2 hours) and they also run Santa specials in December.
Booking and prices
Train rides cost £1 each but children under the age of 3 travel free. You do not need to book, the trains depart every few minutes and you buy tickets at the kiosk. You can also buy a special ticket where if you purchase 5 rides then they will give you a 6th ride free.
The ride-on trains are spacious and run every few minutes. There is space for both parents and their little ones. The train drivers take you on a journey through the woodland. When we visited last year, we spotted lots of fairy doors which we are looking forward to seeing again this year! Riding the trains
Exploring Pinewood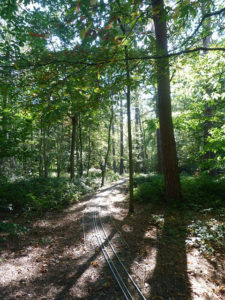 Once you have finished riding the trains, you can enjoy the afternoon at Pinewood. There are two playgrounds and a pond. One playground is right by the train 'station' and the other in the woodland towards the main road. Both have equipment suitable for younger and for older children. There is also the
Pinewood Bar and Cafe
on site which serves hot and cold food (and a well deserved coffee). You can also purchase refreshments at the railway. Parking is free and there are lots of spaces. I am always excited when the miniature railway runs as it is a fun day out with our little one. There's something about children and their fascination with trains that is a delight. To find out more about Pinewood Miniature Railway, you can visit their website at
www.pinewoodrailway.co.uk
or follow them on
Facebook
,
Flickr
 and
YouTube
. The postal address for SatNav is: Pinewood Leisure Centre, Old Wokingham Road, Wokingham, Berkshire, RG40 3AQ. Have you discovered Pinewood yet? Does your child have a favourite locomotive? Let us know by commenting below!