A community project where families have painted colourful fence panels in a playground in Warwick has been the talk of the town this Summer. Caroline and Karen, local residents of Chase Meadow in Warwick wanted to do something for the community and came up with the idea of brightening up The Marish playground.
From Pinterest to the Playground
Caroline and Karen are not only neighbours and friends, but are also part of the Residents Association. Whilst discussing the recent community gardening project, they talked about their new idea. The idea? Painting the playground fence running alongside the community garden! Caroline had seen pictures on Pinterest of where other people had attempted this and thought it was a perfect project for bringing the community together. With the summer holidays looming, it was destined to become an ideal time to do it too.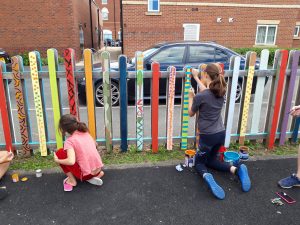 Planning and getting hands-on!
The project was months in the planning, and involved getting the council's permission as well as that of the local neighbours living in the vicinity of the playground. Once the green light was given, and dates planned, the fence painting project went full steam ahead! No-one could have guessed how successful this community project in Warwick would become.
We turned up on the first day and met with loads of other members of the Warwick community keen to get stuck in. It was a sunny day in the school holidays and both older and younger residents got to work painting.
It was great to meet new people, especially as we only moved here a year ago so are still forming new friendships! We ended up enjoying ourselves so much that, after seeing fence painting Facebook events pop up, we came back again and again. Both Little C and I have had fun painting and bringing our little stamp on our community in Warwick.
Getting hands-on with painting
Volunteers from Siemens had very kindly sanded and undercoated the panels, so all that was left to do was add colour and patterns. Paint and paintbrushes were kindly donated by members of our local community. All we as residents had to do was come up with a design. It was a delight to see so many designs from both old and young alike.
Viewing the fence panels is like a huge games of Where's Wally. You always see different things each time you visit the playground. We enjoyed painting our family (Mummy, Daddy and Little C), flowers, rainbows and Snoopy. I love looking at the fence panels that others have painted – such as the life-affirming quotes like 'Be Kind' and I especially love seeing all of the children's names and designs. Everyone went to town with their designs – it has been great to see drawings and quotes. There are even fence panels where local businesses and organisations have painted a panel (for a donation). We always love spotting Arty the Arty Splats giraffe!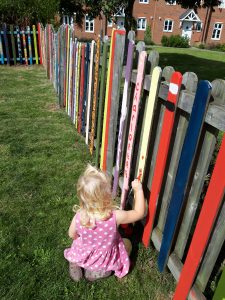 A great community atmosphere with lots of happy chatter
Caroline says of the project:
"For me, the highlights of the project have been meeting people and seeing so many come together and enjoy themselves creating a wonderful area. Everyone is making new friends and it is a joy to see children bring back their parents and grandparents to show them what they have created. My favourite designs are the handprint height chart, the giraffe with a tall neck and the portraits of families. There hasn't been too many challenges as everyone has been agreeable, but one challenge was getting donations of paint and paintbrushes. Everyone has been so kind and supportive. There's been a great atmosphere with lots of happy chatter. I didn't imagine it would be so successful."
Caroline is a very talented artist herself, and has worked tirelessly on the project. Whenever we came back home in the evening and passed the park, we often spotted her painting some intricate patterns or outlining some others!
Bringing people together in Warwick
For Karen, the buzz of bringing people together was paramount. She said
"We live in a lovely community and this project has really brought people together. Some people don't know anyone other than their neighbours, and this has helped combat social isolation. I have been involved with the Residents Association Gardening Group. We have recently introduced a community garden on the Marish opposite the children's playground. This is part of the 'Wellbeing Menu'*  that we came up with in conjunction with Chase Meadow Health Centre. After speaking with Caroline, we came up with the wonderful idea of brightening things up. The project was an excellent impetus for getting everyone together socially and also provided a fun, free activity for families to enjoy over the summer holidays. I have loved every second of it and also being known as 'the painting lady'. It has been an absolute joy.
*If you haven't seen the Wellbeing Menu, you can grab a copy from Chase Meadow Community Centre. Developed by Chase Meadow Health Centre, it features a list of local clubs and community groups that benefit residents wellbeing.
Our community in Warwick that paints together, stays together
Litres and litres of paint (and wet-wipes) have been used, and many conversations and laughter shared. It has certainly been a highlight for people living on Chase Meadow in Warwick. Thanks to Caroline and Karen's great idea, the playground in the Marish has been transformed into a colourful haven that is the talk of the local area and an exciting place to be. Families enjoy spending time there and also showing friends, family and others their creations with each other. The memory of Summer 2019 will definitely be defined by this fun project for many families! If you'd like to visit, you can find the park at The Marish, Warwick, CV34 6BZ. There is on-street parking alongside the park and also by Chase Meadow Community Centre. 
Have you seen the fence panels? What's your favourite? Let us know by leaving a comment below, or by joining in the conversation on our Facebook, Twitter or Instagram pages.