If you're a parent of a small human, then love it or loathe it, you have inevitably taken them to a soft play centre. On rainy days they're a godsend and on sunny days they provide a welcome escape from the blazing heat! They are a good place to let off steam and for children to really let loose. In Winter 2021, there is now a new soft play on the block. Their philosophy is the more fun, the better. Welcome to 'The Mad house'! Here is our review of our recent visit to the Madhouse Soft Play in Leamington Spa, Warwickshire.
It has been a while since we've enjoyed the soft play. After bearing with the A new adventure in soft play
coronavirus pandemic
for what seems like a very long time now, it's taken a long time to get back into the swing of things, in terms of things being open and also feeling safe to go out again. It was nice to discover this new soft play centre in Leamington. We'd heard about it through local Facebook groups and found it easy to book a space for a play session for Little C on their Facebook page. The centre is in Sydenham, Leamington Spa and it was relatively easy to find and park our car.  This is always a bonus on a rainy day when you want to park as close to the door as possible! The happy, friendly staff checked us in with a big smile. We paid for our child (£6.95 for a 1.5-hour session) and then a lady showed us to our booked table.
Key features of the venue – Madhouse Soft Play, Leamington
A welcoming and easily accessible venue for the whole family
A safe haven with play installations for ages 0-11 years old (separate areas for 0-2 years, then 2-11 years)
A cafe providing hot and cold drinks and snacks, plenty of seating, TV screen, litter bins, anti-bacterial gel
Clean toilets and baby-changing facilities
Party hosting
Mascot visits (on selected sessions)
You could easily see the play frame from the cafe seating area, and each of the seats in the cafe provided a good view of the play frame so parents can (theoretically) enjoy that holy grail of a relaxing drink whilst their child plays nicely. Little C was very excited to explore a new soft play and it was very appealing with its jungle theme and bright colours. The play frame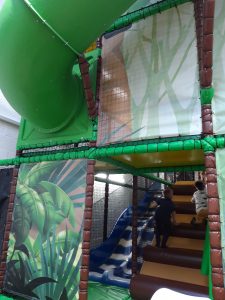 We had a session booked from 2 pm-330pm, which was just enough time to have a good play but before she got too tired. There were many nooks and crannies to explore and climb, slide, whizz and bounce on. Her favourite features included some big bouncy basketballs you could bounce on, a wobbly surfboard, an indoor climbing wall and a beanstalk tunnel you can climb up. There's even a hamster wheel amongst some other surprises.
Whilst we were there, we enjoyed a visit from Dino – one of their mascots who visit some of the sessions. On other occasions, children have also experienced visits from  Poppy troll and a Minion amongst others. It's always heart-warming to see children's faces light up with a mascot high five, that was a definite unexpected extra to our visit.
Even though it did strike us as a little noisy in there, we are not sure if this is because we are a bit out of practice at being at soft play centres recently! It was the perfect place for an A parent's point of view
indoor activity
to burn off some energy. Our quiet drink didn't last too long, as Little C was desperate to show us around. That was our pleasure and both her Dad and I took turns to go around the play structure with her as she proudly showed us all the things that she'd discovered. It was lovely to see her excitement. This was ok to have us up there as adults are allowed up there and can contort fairly easily too.
There are also alternative ways around if you don't fancy squeezing yourself through the washer rollers and the likes! It was very clean in there and felt very clean too. Also, it was obvious they had controlled the numbers allowed in the session so the play frame was busy but not overcrowded so felt safe and comfortable. Also, that meant there was room for everyone to sit in the cafe too. Bonus!
The toilets were clean and easily accessible. We also liked the fact we paid only for our child to play and didn't have to pay extra for accompanying adults to enter. The cafe is reasonably priced and there are lots on offer for both adults and children alike.
The essentials – Madhouse Soft Play Leamington Spa
Opening Hours:
Mon-Weds 9 am-5 pm, Thurs-Sun 9 am-6 pm
Price:
£6.95 per child per one and a half-hour session
(Birthday Parties are £12.95 per child for a 2-hour play session incl. Party food, drinks & mascot appearance. Please contact venue for more details)
Address:
The Madhouse Soft Play, 18 Highdown Road, Leamington Spa, CV31 1XT
Telephone:
01926 313324
Social:
The Madhouse Soft Play Facebook Page
*All details correct at time of publication – February 2022)*
Have you visited Are you ready to play?
the Madhouse soft play
yet? Let us know what you think by leaving a comment below or by joining the conversation on our
Facebook
,
Twitter
or
Instagram
pages.