Who doesn't love pyjamas? If there's anything we've learned from the
coronavirus lockdown
, then it is that having a decent set of pyjamas and loungewear is a must. In fact, the more sets the better (especially if you find yourself wearing them more than usual!). We've recently discovered this UK small company called 'IDentity Lingerie' who make handmade pyjamas (and also make lingerie and even facemasks too). Here is our review of IDentity Lingerie's pyjamas.

Why are pyjamas so great?
Ultimately, they keep you warm and give make you feel great! This is especially true if made out of good quality materials such as cotton and silk. It is especially relevant these days to keep warm because of rising energy bills. They can also help regulate your body temperature if it gets too hot or too cold. They're comfy and nothing says
'I'm switching off' after a busy day
than the rush to get into your pyjamas in the evening. These days for me is quite often at the same time as Little C's bedtime hour! What's not to love about getting into your PJ's early?
I started back at Slimming World back in September last year, helped nicely (or not so nicely) by a dose of covid. But that has meant a nice healthy weight loss and the need to buy new clothes (hooray). I was quite sad to discover my favourite pyjamas now fall off me, but also welcomed the fact my body has changed and I could now treat myself to some new pyjamas in a smaller size! But what to choose? I always seem to go for the plain cotton or fleece pyjamas from the supermarkets these days, so it was nice to pick some pyjamas from IDentity Lingerie as something different for a treat. New body, new clothes…

Special IDentity Lingerie pyjamas for special people!
IDentity Lingerie is a UK based company whose handmade range includes pyjamas lingerie and even facemasks. In looking at their website, I chose a Floral Kimono Pyjama Combo. I like the fact that it comes in a set – perfect for keeping warm when getting up to children in the middle of the night and also chilling out on the sofa in front of the latest Netflix choosings.
They have lots to choose from, others that caught my eye were some purple silk pyjamas and dusty blue floral pyjamas.

A little bit of luxury
Staying at home all the time
we have all got stuck in a rut. It's nice to have something different and special to wear, especially as a tired busy parent! The covid life seems to be neverending sometimes (working from home, school runs,
homeschooling
, PCR and lateral flow tests etc) so having a little package gives you something to look forward to. The website is easy to browse, and ordering is quick and easy. Standard delivery only costs £2.95 (price correct at time of publication) and next day delivery is also available for an additional cost. There is a 60-day window for returns and exchanges. Interestingly, they also offer a lifetime guarantee on the quality of their products – so if you did find any problems with the stitching or fabric, then they will happily repair or replace it. How many companies would offer that these days I wonder? Packages from IDentity Lingerie come in discreet, pretty packaging that is a delight to receive and a very welcome addition to the mailbox!

What did we think of IDentity Lingerie's pyjamas? Our Review.
The pyjamas came in two pieces. The trousers and a kimono-style top. The weather in this country has been rather cold recently so I did choose to wear a vest underneath the top, although you can easily wear them without. Given the choice, I selected the large size which is a size 14/16 which is my usual size these days and it fit perfectly. I also found that the trousers were just the right length. I am 5ft 2 and sometimes pyjama bottoms are way too long on me, even though I like full-length trousers. However, even though these were long, they were just right. They were made out of cotton silk-like material which felt soft and warm and was very comfortable, even from tossing and turning at night. The kimono top was comfortable to sleep in and was also handy for lounging about on the sofa in too.
The floral pattern was very pretty and the fit was generous but also fitted in a nice style. Ladies with larger chests need not worry as there is plenty of room to feel comfortable in this style of pyjama too. It's nice to have a pair of pyjamas that makes me feel a little bit more glamourous than the usual t-shirt style ones in the wardrobe!

Staying Covid Safe – Funky Facemasks!
I was very pleased to receive not one but two facemasks with my IDentity lingeries pyjamas order. First of all a token free facemask as a gesture of goodwill from them, and also a rather lovely purple satin facemask that I chose myself from their collection. IDentity Lingerie sells a selection of lovely
satin masks
. I chose this one in purple. I didn't have 'special' masks at first, but the more we've gone through the past couple of years, I've found that it's been less about the lipstick and more about the matching mask colour. The mask is comfortable, looks great and is a deep, dark purple colour. It fits well and is breathable. It was quite fun to wear over Christmas time too as really stood out!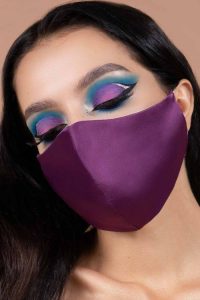 It's nice to be able to support small companies like this one. We are quite impressed at some of their key stand out points: Support Small
They're a small family run-brand from Lincolnshire, UK
Everything is ethically handmade
Custom sizing/designs are available
High-quality fabrics
Environmentally friendly (they produce on-demand, don't overstock products and use sustainable materials)
99.4% of happy customers
When do you like to change into your pyjamas? What's your favourite pair? Let us know by leaving a comment below or joining the conversation on our Join the conversation!
Facebook
,
Twitter
or
Instagram
pages.
(Disclaimer: We were gifted products in exchange for this review. However, all views and opinions are our own.)