It's always good to have lots of
indoor play ideas
up your sleeve, whether it's due to inclement weather outside or in more recent times
self-isolation
rules. We've spent so long inside in the last 18 months, and baked lots of
fairy cakes
and played so many games, that we were very excited to open up some new games over Christmas time from
Jaques of London
. They believe in the power of play and quality family time spent together. (Our family ethos!) They also make good quality toys made to last. Here is our Jaques of London games review.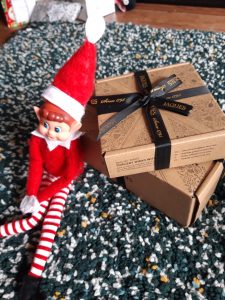 Jaques of London is the oldest games company and sports manufacturer in the world. It was established in 1795 and has been passed down from father to son for eight generations. Jaques have been responsible for inventing many well-known games such as Croquet, Ping Pong, Snakes and Ladders, Ludo, Tiddledy Winks, The Staunton Chess Set, Happy Families, Snap and many more.  Who are Jaques of London?
There are so many games and toys available on the What's available?
Jaques of London website
. They produce their
board games
 using 100% sustainably sourced wood which are really good quality and the sort you enjoy having in the house on display! They have lots of different games and toys available for children and adults such as:
Toys for Babies & Young Children (stacking toys, puzzles, car/dinosaur toys, wooden rainbows, food & drink etc)
Educational toys (counting, learning to spell, teaching clock, calendar, fractions sets etc)
Indoor Games (dominoes, chinese checkers, chess, tumble towers, shut the box, snakes & ladders, ludo, bingo, puzzles etc)
Outdoor Games (croquet sets, trapezes & swings, bowls, quoits, rounders, badminton etc)
There is a good selection on the website and this is sorted into lots of different categories, perfect for browsing if you're looking for something specific or looking for a gift. The
best sellers list
is also good for advising what's popular with others right now – which looks like the shape sorters, tumble towers and chess sets!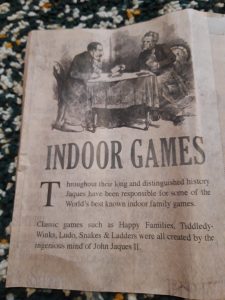 We chose two products from the Jaques of London catalogue, and after having played ALL the games in our house multiple times over the last year decided to go for something new and different to us as a family. We decided to try out the Our Jaques of London Games Review
Mexican Train Dominoes
and the
Tiddledy Winks
games.
Standard delivery is 3-5 working days and costs £3.95. Once our order went through, we received an email with a Parcelforce tracking number so we could easily track our order. The order arrived quickly without hassle. It was rather exciting to receive the boxes as they came in beautiful packages. It was especially nice to see handwritten notes to say which individual staff member had packed them (Thanks Daisy!) – what a nice personal touch! Beautifully Packaged!
The first game we tried was Jaques Mexican Train Dominoes – Games Review
Mexican Train Dominoes
. We have played dominoes before as a family, but never the Mexican train version. All I can say is wow, this adds another element to the game! It is a game of dominoes but with extra spice, that's for sure. Each player selects a coloured train and has a certain train 'line' that they play on. There is also a Mexican train 'line'. Play opens up on various lines throughout the game depending on who can or cannot play their dominoes.
The rules seemed quite complicated at first, but were soon easy to get your head around due to the rules sheet provided in the tin. The game comes in a lovely green coloured tin that is easy to carry and store. There are lots of different dominoes provided (we started with 15 each!) as the highest domino included is a double 12. There are also different small coloured plastic trains which are used as part of the playing pieces, and a train line hub that is placed in the centre of the table / playing area.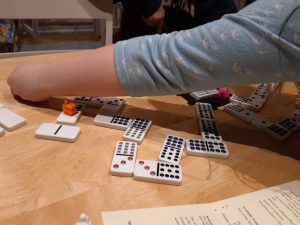 The
Mexican Train Dominoes game
lasts for a good amount of time. Not too short like a normal double 6 game of dominoes, but not as long like a game of something like Monopoly. It kept both us adults and our daughter entertained and amused on different levels. It was very amusing when we could play on each others 'lines' when the others couldn't play! The fact it's in a nice tin is very pleasing too as this goes nicely back on the shelf, and is not another 'boring cardboard box' or something we feel we need to hide away in a cupboard. A great game all round.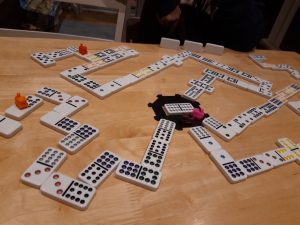 The second game we chose was Tiddledy Winks – Games Review
Tiddledy Winks
. This came in a beautiful wooden box with green felt and several different coloured counters/squidges. Again, the game was boxed up beautifully with a handwritten note on who it was packed by.
Some games are popular in the house, and some are not as popular. This is one I think that is a bit 'trickier' to play skills wise than some of the more 'chance' type games. We tried to play it, but it wasn't as successful as the train dominoes (which we immensely enjoyed), I think because we don't have the patience of flipping the
tiddledy winks
into the pot as much. That said, if tiddledy winks IS your thing, this is a beautiful set. It is nicely made, and a nice way to store all the fiddledy winks inside.
Jaques of London make Our Jaques of London Games Review Thoughts
so many toys and games
and we were so impressed with the quality. It is clear that these toys are made with care and attention from good materials and are built to last. Also to be durable at the hands of little people. It is a refreshing change to have some wooden toys in the house amongst the sea of plastic, and toys which can be passed down from generation to generation.
It also feels nice to be supporting a family run company. That family have certainly been instrumental in ensuring families have enjoyed playing together for years gone by and will do for years to come too.
You can
visit the Jaques of London website
and sign up to receive their newsletter. By 'joining their family' you will get exclusive offers and be the first to find out about new products. Win win! (which I haven't actually managed to do at Mexican Train Dominoes yet, much my frustration and the glee of Little C!)
What's your favourite indoor game to play? Are you a dominoes fan or more of a snakes and ladders family? Do you have a game in your family that your relatives have passed down over the generations? Let us know by leaving a comment below or by joining the conversation on our Join the Conversation!
Facebook
,
Twitter
and
Instagram
pages.
(Disclaimer: This is a collaborative post with Jaques of London and we received products free of charge to review for purposes of this blog. However, all views and opinions are our own.)