What a perfect pre- or post- Christmas treat than to go and watch a Pantomime. We're in a more fortunate position this year, because even though sadly we all face the challenges that the coronavirus continues to deliver (more of that in a bit), theatre HAS returned and the show WILL go on. Noone knows that more so than
Tread the Boards
and this year have come back to their home turf of The Attic Theatre in Stratford-upon-Avon (as well as Wethele Manor) to bring to audiences their interpretation of much loved classic Beauty and the Beast. We were lucky enough to catch one of their shows and here is our review of Beauty and the Beast by Tread the Boards:
I must admit I was quite worried whether we would get a chance to see it or not, having seen many theatre productions cancellation notices over the days leading up to the performance. Tread the Boards are no strangers to challenges during this ongoing pandemic. For example, we saw The show must go on!
Wind in the Willows
on picnic chairs in a roped off circle on a cricket pitch and
Cinderella
in a park and ride car park (on staging which had been hastily rescued that morning from a flooded racecourse!). This year, there have been cast illness and self-isolation absences and last minute understudies, some of who have hit the stage with only 2 hours rehearsal and accompanied with the script (Professor Crackernut, you were fab – especially with the dancing at the end!). It is clear that they are passionate about their craft and will do all they can to ensure the show goes on. 
The plot of the show takes the following course: What was the show about?
Dreaming of a happier life, the beautiful Belle leaves the quiet town of Stratfordia to go in search of adventure but finds herself transported to a cursed castle and held captive by a hideous beast who has been placed under a spell by an evil enchantress. It is down to her friends Funny French Franc, Dame Dotty alongside the arrogant and stupid Jean Claude Van Dumb to save her.
Can Belle see beyond the monster and fall in love with her captor before the last petal falls from the enchanted rose? Or will the Beast's selfishness cost him the world he once knew and the hand of the girl who has melted his heart?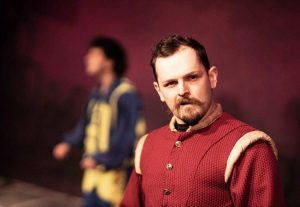 We can genuinelly say that we LOVED the show.  John-Robert Partridge who directs this production and also plays Dame Dotty really is the Partridge in Stratford's Pear Tree! He brings joy and magic to the stage in every production he is involved in. The Attic theatre is somewhere we hadn't visited before, since What did we think? Our Beauty and the Beast by Tread the Boards Review.
moving to Warwickshire
just over 3 years ago. We loved the intimacy of the venue and the fact that we felt part of the story. This was especially true when we were invited to be in Franc's gang. Some of our favourite highlights of the show we liked were:
The town song at the beginning. I'm a sucker for a good song, and everyone had such pleasant singing voices and harmonies. Elliott the Musical Director provides the musical magic from the corner of the theatre. He quite rightly gets some recognition later on in the show too. We loved the local references in this song too, very funny!
The chocolate scene. There were 27, 28, 29 (I don't know… I lost count)… confectionary based jokes from a double-act scene between Dame Dotty and Franc. It was hilarious. I couldn't possibly repeat or remember them all, you'd have to see for yourself!
Ghostbusters scene. Quite possibly our daughter's favourite scene. One of them anyhow as she loved it all, however, she and many other children got very excited by this one. Dame Dotty, French Franc, Jean Claude van Dumb and Professor Crackernut made their way through the spooky forest trying not to get spooked by the ghost. Our little one's excitement was so endearing. She loved it when the ghost was scared of Dame Dotty at the end.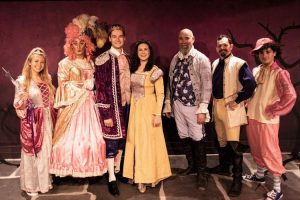 Sword Fight. There were some impressive stage fighting skills going on here between the Prince / Beast and Jean Claude van Dumb. The children loved this too, although I was quite shocked when they asked the audience for suggestions on what they should do with Jean Claude next to punish him and she shouted 'kill him'. Now there's a child who has watched too many episodes of Horrible Histories and loves Shakespeare!
Bake Off. Your typical pantomime scene with the custard pies in face. Does not disappoint, although I wasn't quite prepared to put my hands up in defence as an audience member! 
There was also an audience participation dance (bake it off to the tune of Taylor Swift's shake it off, although theirs DEFINITELY came first!), topical covid jokes, and the fairy godmother promising that now she's sorted out Belle and the Beast falling in love, she's off to sort out a pig called Boris(!)
The characters in this production are simply wonderful. From the rogue Beast who turns out to be quite nice underneath, bright well-read Belle and her slightly clumsy father Professor Crackernut, to the Fairy Godmother with a plan. You've also got the creepy and vain Jean Claude van Dumb (watch out ladies), dim but lovable French Franc and his absolutely divine mother Dame Dotty. We think Dotty stole the show, and her dresses were amazing! The costumes and the props (such as the rose) were amazing) and the set was simple and worked well.  Colourful Characters and Props!
All in all this is a 5 star production with a cherry on top and we would recommend to everyone (looking forward to seeing what they come up with next year already!). It is suitable for all age groups, and will be enjoyed by families with younger or older children. It is split into two halves with an interval, and toilets are available also.  Where can I get tickets?
The
Beauty and the Beast
pantomime runs from 17th December 2021 – 2nd January 2022 and tickets cost £15 (£12 concessions) or £45 for a family ticket. Tickets for the remaining performances can be purchased via the
Tread the Boards website
. You can also follow them on
Facebook
,
Twitter
and
Instagram
.
They have introduced several ways in which panto is delivered this year to cater for differing needs, details of which are:
Socially distanced performances: 22, 23, 28 and 29 December at 2pm. For these performances, the audience will be socially distanced from when they enter the building to when they leave at the end of the night.
Relaxed performance: Friday 24 December, 11am. This performance will be the same great panto, but small changes will be made to make it suitable for those who require a more relaxed environment when going to the theatre.

​

The Adult Pantomime: 19 December and 2 January, 8pm. For over 18s only – the same great panto, but with an adult twist!
We went to one of the socially distanced performances and we were so happy about this as felt incredibly safe. From the moment we entered the theatre, all precautions were taken. Our covid passes were checked, sanitiser was available, and we were able to sit in the theatre at a socially distant space away from others. Even Jean Claude van Dumb managed to curb his ego and keep the 2 metre distance away!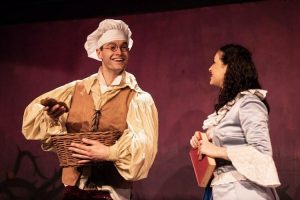 So there is our review of Beauty and the Beast by Tread the Boards. Have you seen a Christmas show? What did you think? Let us know by using the comments box below or by joining the conversation on our Join the Conversation!
Facebook
,
Twitter
or
Instagram
pages. 
(Disclaimer: We received tickets for a performance of this show. However all views and opinions are our own.)