October is here, which means the Autumn has arrived. The leaves are changing through beautiful colour schemes and nature's playground is providing us with many different craft materials for Autumn and Winter. Leaves, sticks, pine cones and of course conkers (a.k.a horse chestnuts) are just some examples of this! We've put together a list of 5 fabulous things to do with conkers.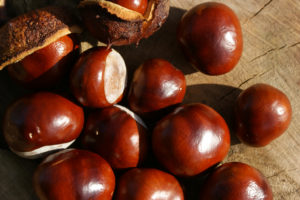 Conkers are great to collect, and we often have fun wandering about with our bucket seeing how many we can find to take home and play with. It is said by many people, including that they are good for Collecting and playing conkers
getting rid of spiders in the house.
Sophie (Sophie and Lily) suggests that Autumn garlands are great for deterring spiders. We're not sure however if conkers do actually scare spiders away as there has been no scientific proof. We'd be interested to know if they have worked for you. You can also play the
traditional game of conkers
, a favourite for many years. But when you've used them to spider-proof your house and you've had more than enough conker games, what else can you use them for?
Conkers can make for great items of jewellery. Hannah ( 1. Necklaces
East Sussex Mummy
) suggests threading them together as necklaces or bracelets. These would definitely make for feature pieces of jewellery!
You can also thread conkers together to make house decorations, perfect for the forthcoming Halloween and Fireworks Night celebrations. Jo (Rose Tinted World) 2. Autumn Garlands
made this gorgeous Autumn Garland
with leaves and conkers, which you'll agree looks quite spectacular on her fireplace! You can always use the same method to make a wreath, or try a no drill method like that seen on
Family Days Tried and Tested
.
Painting is a daily staple in our house and most toddlers enjoy painting, creating or generally making a mess. Conkers add an outdoor element to this traditionally indoor activity. Jessica ( 3. Autumn Process Art – Painting with Conkers
Beauties and the Bibs
) puts some paint on a piece of paper in a tray and puts the conkers roll around in the paint. 
Autumn Process Art for Toddlers
went down a great storm (no Autumn pun intended) with Claire (The Ladybird's Adventures) with her little one. They used leaves, conkers, pine cones and some autumnal paint colours (red and yellow) to produce some freestyle art work with very pretty effects.
Another unusual idea is this suggestion by Louise (Thimble & Twig). You can use pens to draw on the conkers and play 4. Play Noughts and Crosses
noughts and crosses
! This is a great game that is enjoyable to play for both adults and children – so you can all enjoy your this special autumnal themed version of the game!
Jenny (The Gingerbread House) and Jess (Tantrums to Smiles) made Conker caterpillars with their little ones. Conker caterpillars feature on the Tantrums to Smiles  5. Make Conker Animals
Toddler-friendly Autumn Crafts
post. Jess tells us:
They were super easy to do too. We just threaded conkers onto string and then used googly eyes and pipe cleaners for details. We also used an acorn shell for the end of our caterpillar.
He's so cute, wouldn't you agree?
If your caterpillar needs some other animal friends, there are some more ideas from Jenni (The Bear and The Fox) who made a whole collection of chestnut creatures with her little one. This even features a flying horse (which I can guarantee will appeal to a toddler or two!). Stick on a horn to any horse nowadays and you've got yourself a unicorn. Unicorns are always a hit in this house!
There are some also some great ideas for making conker animals on
Curious and Geeks
and also on
Red Ted Art
. who suggest using plasticine to add embellishments which looks really effective.
We hope you've been inspired by some conker-tastic ideas here. We'd love to know what you do with your conkers. Let us know by using the comments box below, or by joining the conversation on our What will you do with your conkers?
Facebook
,
Twitter
and
Instagram
pages.