Springtime is finally here. The weather may need to buckle up it's ideas every now and then, but if you take a look outside there are so many signs that spring is here and summer will be just around the corner before you know it. The daffodils have gone, but the bluebells have now appeared. They are usually with us between late April and early May, and every single year we wonder where the best places are to spot bluebells. Here at Happy Family Hub, we thought we'd share 10 places in and around Berkshire (or just over our border) where you can spot bluebells with the family!
1. Fernygrove Farm, Hawthorn Hill, Bracknell
Fernygrove Farm
host Bluebell Walks every year. This year's walks are taking place until Friday 4th May. The walks take place every day from 9am-3pm and you can walk in your own time. No booking needed. Afterwards, there are refreshments available at the cafe and play equipment for the little ones. The trail costs £5 per adult (children under 16 are free) and donations go to Sebastian's Action Trust. Fernygrove Farm is located at Hawthorn Hill, Warfield, Bracknell, RG42 6HN.
2. Tinkers, Jocks and Temple Copses
The Three Copses
, Tinkers, Jocks and Temple, are located near Jocks Lane playground.  There are circular walks on pathways through the copses where you will find the carpet of bluebells. There is also play equipment, a cafe, splash pad and lots more to enjoy. You can park in the Jocks Lane Recreation Ground car park, Binfield Road, Bracknell, RG12 2BH.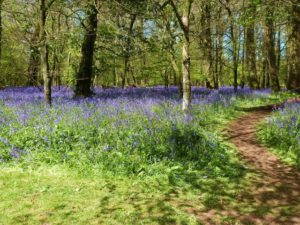 3. Basildon Park, Lower Basildon
Basildon Park
, the first of three National Trust properties in this list, is in Lower Basildon, Berkshire. It is a Georgian mansion surrounded by parkland that has been restored in the 1950's. You can pick up a map from Visitor Reception and head out into the woods to see the bluebells which will last until approximately the end of May. Handy hint: The green and blue walks are the best to see the bluebells! Every Friday, a member of the outdoors team leads a walk through the parkland to discuss what's in season and point out what to look out for. Basildon Park is located at Lower Basildon, Reading, Berkshire, RG8 9NR.
4. Bill Hill, Easthampstead
Bill Hill
in Bracknell is at the top of Rectory Lane just past Friar's Keep. It's a public open space with a naturally wooded hillock and a bronze age burial mound. There is no car park at Bill Hill, so the best place to park is in Crowthorne Road to the north east of the mound, near the Green Man pub, Bracknell, RG12 7DL.
5. Ambarrow Court Woods, Sandhurst
Ambarrow Court
is a 21.5 acre local nature reserve located in Little Sandhurst between the A321 and the Reading to Guildford railway line. Did you know that it was once part of a Victorian country estate, but the original house built in 1855 has since been demolished. You can see the bluebells when walking through the woodland. Ambarrow Court has its own car park off the A321 Wokingham Road, Sandhurst, GU47 8JB.
The magnificent National Trust property  6. Cliveden, Taplow near Maidenhead
Cliveden
 is based in Taplow near Maidenhead. The grade 1 listed gardens are a sight to behold, and during bluebell season, you can go into the woodland where you will see the seas of blue. You can also enjoy the panoramic views across the River Thames. You can pick up a map from Visitor Reception and head out into the woods to see the bluebells which will last until approximately the end of May. The walks are free, but admission charges to Cliveden apply. Cliveden is located at Cliveden Road, Taplow, Maidenhead, Buckinghamshire, Buckinghamshire, SL1 8NS.
One of the most popular locations in the local area to see the bluebells is at 7.Popes Meadow / Murrell Hill Woods, Binfield
Popes Meadow
, Binfield. The green flag award winning parkland is named after Binfield's most famous resident, the poet Alexander Pope who lived in Pope's Manor adjacent to the site. There is a woodland area covered in bluebells and also a play area for the children. Pope's Meadow car park is located off St Mark's Road, Binfield, Bracknell, RG42 4AY.
Another great area to spot bluebells is at 8. Dinton Pastures, Wokingham
Dinton Pastures Country Park
in Wokingham. The popular country park, which also has a large lake (great for feeding the ducks) and multiple playgrounds, has many wooded areas full of the beautiful blue flowers. The car park is located at Davis Street, Hurst, Wokingham, RG10 0TH.
9. Greys Court, Henley-on-Thames
Greys Court
is a National Trust property based in Henley-on-Thames, just over the border in Oxfordshire. It is a tudor house and country garden with beautiful woodland in Spinney Woods which has a spectacular carpet of bluebells. There is also a cafe and children's play area. You can pick up a map from Visitor Reception and head out into the woods to see the bluebells which will last until approximately the end of May. The walks are free, but admission charges to Greys Court apply. The car park is located at Rotherfield Greys, Henley-on-Thames RG9 4PG. Whilst in Henley, why not take some time to visit the nearby
River & Rowing Museum
too?
At 10. Jennett's Park Country Park, Bracknell
Jennett's Park Country Park
 (Peacock Meadows), you will find plenty of bluebells in West Garden Copse. You can also find nearby Tarmans Copse (just opposite Osprey Avenue playpark) and Wykery Copse (across the road near Peacock Farm pub). Peacock Meadows has a lovely walkable circuit and in Jennett's Park you also have multiple playgrounds to keep the children busy. Our personal favourite is West Garden Copse within the country park as not only is it full to the brim with bluebells, you can also find many painted rocks here. There is a small car park located off Swift Fields, Bracknell, RG12 8BX. The images below are stunning shots of Wykery Copse, courtesy of Mark James Photography. You can see more of his photography on his
website
or
Facebook
page.

We hope you've found this list useful. Where do you like to enjoy walks amongst the bluebells in and around Bracknell, Berkshire? Let us know using the comments box below or connect with us on
Facebook
,
Twitter
and
Instagram
. Happy bluebell spotting!