We love to read books with our little one, either ones we own or those that we borrow from a library. Reading is a big part of our lives and it's great to be able to share this with our daughter and help her as she learns to read herself. Stories are a great way to use our imagination too and spend time relaxing. I thought I'd share with you our top 5 books that we have been enjoying with our toddler in February 2018.
Who's in the Loo? by Joanne Willis and Adrian Reynolds (Andersen Press)
This is a crudely illustrated but rather fun book written in rhyme – the book opens with 'Who's in the loo? Is it an elephant having a poo?'. The rhymes are fun and easily memorable for our daughter to repeat back whilst we are reading the book. When we find out in who is actually in the loo, it all becomes clear!
Maisy Learns to Swim by Lucy Cousins (Walker Books)
This is one of a series of Maisy first experiences book and one of our favourite characters. In this book, we read about Maisy Mouse going swimming with her friends Eddie Elephant and Tallulah Chicken. Follow their adventures as they learn what goes on in the swimming pool. Our daughter quotes sections from the book whenever we go to the swimming pool ourselves. It is a fun book and just right in length too.
Hiku by Nicole Snitselaar & Coralie Saudo (Top That! Publishing)
Hiku is a penguin who shies away from a family gathering. But, when his family come to stay – will he find out that it is fun to be together after all? We have so much fun reading this book. It is cute and each page is interactive as you can have a competition to see who can spot Hiku first (Clue: he is the one with the heart-shaped tummy). It also has a snappy catchphrase 'Hiku, Hiku, say cheese, or you'll freeze' which Little C likes to repeat when people are having their photos taken!
by Gillian Shields & Rosie Reeve
William's Winter Wish
William is a little mouse who wishes it would snow. One day he is wishing on his Grandpa's snow globe and he accidentally breaks it! How can he apologise to his Grandpa and will his wish of snow come true? This book contains beautiful pictures (illustrated by Rosie Reeve) and is a nice, gentle story that children can relate to.
by Tamara Wright (Bloomsbury Paperbacks)
The Three Grumpies
A little girl wakes up one morning and 'Grumpy, Grumpier and Grumpiest' are waiting for her! They follow her around all day as she learns how to deal with them. It is perfect for teaching children (and let's face it, us adults too) how we can deal with being in a grumpy mood. Will the 'grumpies' get you next?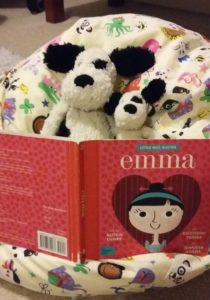 I hope you've enjoyed reading what we've been reading this month. What books have you been enjoying? Do let us know in the comments box below!