Mrs Mactivity is a website containing a plethora of activities to do at home. It is the brainchild of ex teacher Mary. Her passion? Educating children and making it fun to do so! She's now been joined by a team of current and former teachers and designers to provide high quality educational resources to do at home with the kids.
Who's the website aimed at?
Anyone who wants to teach kids and have fun! The website is easily accessible and is beneficial to both teachers, childminders, parents and other carers alike. If you're looking for specific areas that you wish to practice with your child, you can find these – for example reading, writing, mathematics and SEN. The website is perfect for primary age children, but there is plenty to do to keep toddlers entertained. This is perfect for home based activities when you are having some downtime, or inside the house on those rainy (or snowy) days. You can sign up for free, or access a greater range of resources for £9.97 inc VAT (rate current as of February 2018).
What sort of activities can I find there?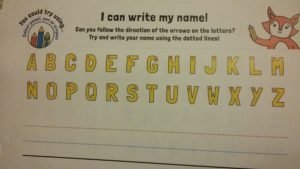 All sorts ! The content is consistently being refreshed and you can find lots to inspire young minds – for example colouring, puzzles, crosswords, games and even STEM activities involving Lego such as these wonderful Chinese New Year STEM challenges!
Happy Family Hub were lucky enough to be able to try the website and had fun doing so. We particularly enjoyed the following activities:
Colouring in a Mother's Day 'bouquet' of flowers – this is one that you can fold so it is a 3D bouquet that you can gift. This is a great idea of something that can be given to mothers or grandmothers.
Printing out a Visual Routine – we cut out and laminated pictures of different activities to make a schedule for our day. Planning a daily routine is so important for little ones to know what to expect. It is good to have a good structure to plan around. The pictures are nice and brightly coloured. These match routine activities for home or school. Examples of which are dance and movement, brain gym and DVD time. I can see how these would also be good for childminders or home educators to put up on the wall as a daily reminder.
Going outside with our Winter Hunt Checklist – this is a great printable sheet which gives you items to find outside. Home based activities can be performed outside in the fresh air too! We used the checklist like a bingo card and ticked off each item as we saw it.
Where can I find out more?
You can discover the wonderful world of Mrs Mactivity at 
https://www.mrsmactivity.co.uk
. If you use the site, please let us know what activities you have enjoyed most by commenting below! Don't forget you can also follow the team over at
Facebook
,
Twitter
,
Instagram
and
Pinterest
where you will find lots of inspirational educational ideas that you can enjoy with your child or those in your care. *I received free access to the website in order to review it, however all views and opinions are my own.*