The Wanted's Tom Parker died earlier this year of a grade 4 Glioblastoma brain tumour. His death has shocked many as he was so young, only 33, but also as he was so visible to many in the public eye.
It's taken me a while to write this post. I'm never usually one for crying at people I don't know funerals. I usually get confused about why people do shed tears. Of course, I feel sad and situations are extremely devastating but celebrity deaths do not normally affect me in such a way.  However of course Tom's story is a little closer to home and really made me think. I'm struggling a bit with my anxiety at the moment with various things, so have found it hard to write so much in general recently. Slowly getting there though!
(My next tumour appointments are in June so not long to wait. The last checkups have all been stable so all is good on that front and so I remain under active monitoring. Can't say the worry doesn't go away, but for now, it's good.)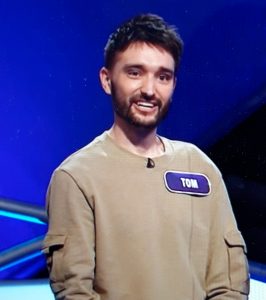 Different rolls of the dice – a devastating brain tumour diagnosis for Tom Parker
Anyhow, back to the story of Tom. Life can throw you some different rolls of the dice, can't it? He was so lucky in other ways, he had a beautiful wife Kelsey and two young children Aurelia and Bodhi and a lovely home. He lived his best life enjoying what he did best – singing – with some of his best mates and living the dream life of performing. How awesome is all of that? So why is life so unfair that it has to throw a cancer diagnosis into the mix in terms of an incurable terminal brain tumour?
Love and positivity – and strength in family
Tom was so admirable in the way he dealt with things. He accepted he was unwell, there was no choice, but his love for his family was crystal clear. Making happy family memories was the goal. He carried on performing for as long as he physically could because that was his identity. In his Instagram posts after diagnosis, he said he wanted to spread 'love and positivity' and 'raise awareness of this terrible disease'.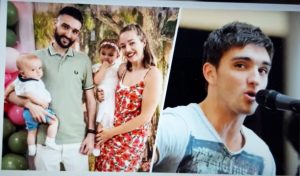 Tom Parker raised lots of funds and awareness for Brain Tumour charities (and continues to do so in his memory)
He truly was remarkable though for the way too in which he used his clout to support brain tumour research charities and support others within the brain tumour community. Even whilst he was unwell, he managed to pull off a huge fundraising concert at the Royal Albert Hall, even getting up to sing himself.
Tom also sat on panels to discuss brain tumour research funding. Out of all the cancer funding, brain tumours only receive 1% of funding, a figure which hasn't increased over at least the last decade. he was trying to raise awareness and change this. 
Sharing experiences, helping lives… Tom Parker's brain tumour story
As part of the brain tumour community, there are lots of us with so many different types of tumours collectively sharing our experiences and supporting each other through our own individual journeys. By sharing his experience with others, it has helped others deal with their ways of dealing with things and made it easier to talk to family and friends. However, Tom Parker's death shook up many of my friends who have a similar Glioblastoma diagnosis and they are always on my mind. It was a double whammy that week as I believe (even though fictional) Holby City character Jac Naylor also passed away. A stark reminder that life shouldn't be taken for granted.
Tom: Your legacy will live on!
Tom Parker led a fabulous life. He was so lucky to have a fabulous career with bandmates he could call friends. His wife Kelsey loved him so much and forever is by his side. He will live on in his two beautiful children. This fairytale did not have the traditional happy ending. However, it is not the end and his legacy lives on as Tom's star continues to shine.
Tom Parker, We're glad you came.
Join the conversation
Have you been affected by Tom's story? Are you inspired by his love and positivity? Get in touch by leaving a comment below or by joining the conversation on our
Facebook
,
Twitter
and
Instagram
pages. If you'd like to consider a donation to my fundraising for brain tumour charity
Brainstrust
for the amazing work they do for brain tumour patients and their families, then that would be awesome too! My JustGiving page is here:
https://www.justgiving.com/fundraising/emma-mosley-brainstrust
Other posts you might be interested in:
7 things I wish people knew about Brain Tumours
Why I'm glad I said no to brain surgery (for now)
Living with a Brain Tumour: a Journey Into the Unknown