Smoothies are fast becoming a favourite in our house. They're tasty and nutritious, and you can use most fruit and vegetables in them. They can be enjoyed by all members of the family and are fun to create. They are also good for
keeping cool in the heat
! We were lucky enough to be given a smoothie maker (the Nutribullet Magic Bullet blender) recently by a dear friend and haven't stopped using it since.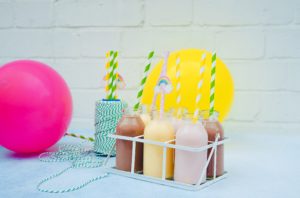 Little C has been fascinated by making smoothies ever since she saw TV's favourite chef (Shane the Chef of course!) make a delicious berry concoction. So, after much begging that we should make one, and after having taken ownership of a new blender, it was the perfect time to start. Smoothies are delicious at any time of day and you can even sneak things like spinach inside to make them super-healthy! We've searched for inspiration of what smoothies to make. Here are 10 of the most super scrumptious smoothie recipes we have found:
Ben Sully from 1. Banana & Avocado (Wood Create)
Wood Create
says "I love a good smoothie and have them almost every day. A really good way to get some powerful nutrients into yourself and your children. I like to keep mine simple. A chopped up banana, half an avocado, a scoop of cocoa powder and one and a half cups of almond drink. Super yum!
Carla-Marie Lett from My Bump to Baby loves this powerful green smoothie. It is flavoured with pineapple and banana (so very exotic). Spinach is a key ingredient but also 1 whole celery stick! What could be healthier than that?
Peach Melba is an under-rated yogurt flavour (you never see them anymore!) so I was very excited to discover this recipe. A little bit naughtier as it contains fresh custard, but still low in fat and very tasty too.
There are so many breakfast smoothie recipes out there, but what I like about this one as contains coffee. A caffeinated smoothie is a sure-fire recipe to battle those early morning wake-up calls.
If you want to top up your Vitamin C levels, this smoothie will help you do that. The recipe states that it contains up to 3 times your recommended daily levels! It's a simple recipe yet very delicious. Top points with our little one too for being bright pink!
This bright orange smoothie not only looks great but is very refreshing. It makes a change from the traditional purple or green smoothies too. I'm not a great ginger fan, and most carrot recipes I see contain ginger, so this is a refreshing alternative.
Whenever we go on our evening walks recently, we always end up finding lots and lots of blackberries We pick a few and eat on the way, but also take a tub home with us to make smoothies. This recipe also contains honey to sweeten it so feels super healthy as well as being good for you.
In Care Johnson's blog, I came across a post entitled 'Smoothies for lazy people' where she mentioned a fantastic pre-made smoothie mix from Iceland. They're not too expensive for what they are but really easy to have it all measured out. It's also a very palatable way to enjoy some kale! 8. Banana, Kale and Mango Smoothies (Care Johnson)
The phrase 'healthy chocolate ice cream' is not one you'd usually come across every day, so we were bemused to find this recipe which promises to taste like melted chocolate ice cream! It's close enough, not entirely like chocolate ice cream but a pretty good alternative. It also contains avocado, which you cannot taste, so you are getting plenty of the good fats.
Normally smoothies are a bit of a no-go on Slimming World due to their high syn values, but finding low syn recipes is possible. This one contains raspberry and mint and is only 2 syns, with a little help from using your Healthy A and Healthy B allowance.
We hope we've provided some inspiration for you to enjoy some smoothies. Lots of these are also vegan friendly if you are
following a plant-based diet
. We always enjoy making them, so if you have any ideas you'd like to share, please let us know in the comments box below, or connect with us on
Facebook
,
Twitter
and
Instagram
. (Disclaimer: This blog contains affiliate links, however all views and opinions are my own.)