There comes a time in your child's life when they are ready to graduate from their 3 wheeled scooter for a more 'grown-up' 2 wheeled scooter. A sad time because it means they are growing up but also quite exciting for them to have a new form of travel and a new found sense of independence!



But what to choose?
We had no idea what to choose. We started off with a Micro Trike followed by a Micro Scooter, but fancied something different for a more grown up scooter. In all honesty we had no idea on where to start to look for two wheeled scooter. Then, we heard about the JD Bug range (which we'd also seen around primary school).  We were lucky enough to be offered the chance to try out the JD Original Street MS130B foldable scooter from Skates as Little C's 'next scooter' up. So, what is it all about?


What is the JD Bug Original Street Foldable Scooter?
The scooter is a lightweight (2.78kg) 2 wheeled scooter suitable for children and teenagers age 6-16 years+ and the maximum rider weight is 100kg. It is:
Foldable: it folds with a smooth

mechanism and also comes with a shoulder strap, perfect for carrying. I've found this very quick and easy and can do this in a hurry in the playground ready to be up or down dependent our daughter's wishes!

Adjustable:

The scooter handlebars height extends from 630mm-950mm. It can grow with your child and will suit them from age 6 through to when they are a teenager.

Safe:

Obviously, scooting can be a risky activity, so please always remember use of a helmet. However, one safety feature to note that is rather impressive on this scooter is the texturised grip on the footplate. This means that there is less risk of muddy wet feet slipping when scooting along. 

Fun:  T

his scooter is perfect for the young scooter rider to go faster than ever before and also to perform stunts and tricks. The handlebars also spin 360 degrees to help with this!

Colourful:

The scooters come in 7 different colours. Matt Silver, Matt Black, Sky Blue, Red Glow Pearl, Pastel Pink, Reflex Blue and Purple Matt.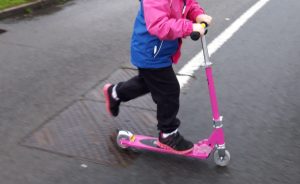 Review: JD Bug Original Street Foldable Scooter from Skates. What do we think?
My daughter received the JD Bug Original Street MS130B Push Foldable Scooter for her 6th birthday as one of her main presents. To say she was thrilled was an understatement. She has spent most of the year picturing herself riding a new scooter like one of the big girls. She has also been watching on as they do little stunts (bunny hops, mostly!) and now she's got the chance to do that for herself.
Pink, pink, pink!
We chose the pastel pink colour for her, which I would say is more of a bright pink. This definitely suits her taste. Both myself and her Daddy are very impressed with the scooter in terms of its portability and how it folds. This also makes it easy it is to carry back from the school run. Little C took to riding it like a duck to water. She did find the steering a little tricky at first, as the handlebars turn 360 degrees due to it being a stunt scooter. This was to be expected. However, that was only during the first few days as she transitioned from her pre-school scooter. Now she is used to it, there is no stopping her!

The big wins for this scooter are the good build quality for the price, the suitability and riding experience, the portability and how foldable it is and also the non-slip footplate. It also takes up very little storage as it folds up neatly, which is always a bonus. A definite 5 star scooter!

Where can I find out more?
The JD Bug Original Street Scooter is available in Matt Silver, Matt Black, Sky Blue, Red Glow Pearl, Pastel Pink, Reflex Blue and Purple Matt. It retails for approximately £54.95 (price correct at time of writing) on the Skates website. (Disclaimer: We were sent a JD Bug Original Street Scooter for purposes of this review, but all opinions and pictures are my own.)
Let us know what you think of your scooter by using the comments box below or by joining in the conversation on our Facebook, Twitter and Instagram pages. Thank you for reading – and enjoy!