When we first moved house to Warwick and asked for recommendations about children's clubs and classes, Playbox Theatre's name came up again and again. Little C has been going to classes there since she was a toddler. However, as well as their fabulous portfolio of classes, Playbox Theatre now has a new offering! Play Square is an imaginative role-play space that opens free of charge for families with 0-5 year old children in Warwickshire and beyond to enjoy.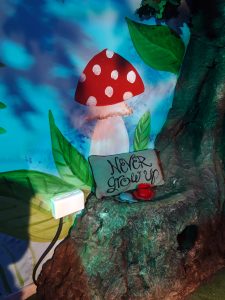 What is Play Square?
Play Square is an imaginative role play space based at The Dream Factory (Playbox Theatre) in Warwick. You know the one. Bright box shaped building on the Stratford Road. It is aimed at children aged 0-5. The opening hours are 9.30am-12.30pm Monday to Friday, term-time only. It is fast becoming THE place for babies, toddlers and pre-schoolers to enjoy with their families.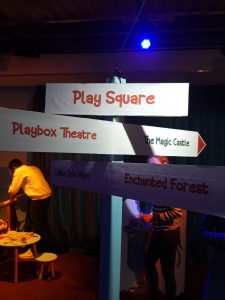 The space, based in the 'Jinks' room of the theatre, is decked full of scenery, props and dressing up. All of which is a dream for young children and parents who wish to spend time playing in a beautiful environment. There is a castle, mini cafe, dressing up table, storytelling tree and of course a mini stage for all budding thespians!
Sparking your child's imagination
We have visited many times since Play Square's launch this year. Little C enjoys dressing up in many outfits and playing different roles (usually a princess, of course!). She has spent many minutes at the dressing table pretending it's a beauty salon, fought dragons as a brave knight and become a waitress in her very own cafe. She's particularly true to life when serving me in the make-believe cafe by pouring me a green tea and serving a dairy-free ice cream! The space is very social too, and whereas she is an only child at home with no playdates during the day (everyone is usually at pre-school or school), she can often find someone to play with here! She's at that age where baby/toddler groups are a bit too young for her, and she was craving something a bit different. Play Square definitely fills that gap! Also, it is totally free of charge. Perfect for families on a budget, or just when you need to reign that spending in a bit. You don't need to shell out pound after pound if you want to have fun.
Playtime ahoy!
Play Square provides a perfect space to play. It's also good for all types of weather. Inside play can be beneficial when it's pouring down with rain outside! It is also a good alternative to soft play, as this ticks the role-play box and sparks imagination. Parents can also meet other parents too in a relaxed atmosphere. There are some benches in the middle of the role-play area, and as the space is quite intimate, we have found it friendlier than some places. It's always nice to say hello to other mums and dads, and have a conversation. It's always nice to have a bit of adult conversation too while the little ones play. This space seems to lend itself quite nicely to social interaction for both parents and children.
Cafe Whirl
Cafe Whirl is the cafe based at Playbox Theatre in The Dream Factory and sells a wide variety of food and drinks for both adults and children. To note in particular are their delicious cakes. As well as being incredibly tasty, they also cater for a variety of dietary requirements. We can definitely recommend the gorgeous dairy free chocolate brownies. Seating and tables are plentiful and you can log on to the free WIFI if you need to keep up with work or personal emails too. The large space is also great for children to run around and play games of tag, hide and seek and don't step on the lava!
Let's Go!
If you want to visit Play Square, the great news is that it is totally free of charge and booking is not required. You can drop in and you can be sure of a warm welcome. Play Square is currently open term-time Monday to Thursday from 9.30am – 12.30pm and Cafe Whirl is open all day. It has now firmly entered our list of ideas for indoor play too, perfect for when the weather is too wet/windy/hot etc. If you have a little one, you won't regret visiting and will surely be back multiple times. Playbox Play Square is practically perfect in every way!
Address for Sat Nav: The Dream Factory, Stratford Road, Warwick, CV34 6LE
Have you visited Play Square? What's your child's favourite role-play game? Let us know by using the comments box below or by joining in the conversation on our Facebook, Twitter and Instagram pages.