Being a contestant on BBC Radio 2's Popmaster was always on my wish-list. Of course there are more traditional wishes, but being on Popmaster was always high on there. On 24th July 2020 they granted my wish and I was picked to be a contestant. Here is an account of my Popmaster experience. You can also see what questions I had to see how well you would have done on the day. 

What is Popmaster?
Popmaster for those that may not have discovered this gem is a daily pop quiz on BBC Radio 2. It started on the 16th July 1998 and can be heard during the Ken Bruce Show on weekday mornings at about 10.30am when 'we all stop for Popmaster'. You can also subscribe to the podcast on BBC Sounds to listen to it at a more convenient time.
There are 2 contestants who play against each other. Each contestant selects 1 of 2 bonus questions, then the host asks a
series of pop music questions
written by radio producer and music collector Phil 'The Collector' Swern. Some are worth 3 points, and the bonus questions are worth 6. The maximum score is 39. If you lose you win a '1 year out' t-shirt, a nod to the guess the year question. The one with the most points wins and gets to go through to play '3 in 10' which determines whether you win a bluetooth speaker or DAB digital radio. This is where you are given a certain music artist and have to name at least 3 chart (i.e. Top 75) entries for them in 10 seconds. Harder than it sounds!
My daily routine
I always listen to Popmaster and Ken Bruce is a perfect Popmaster host. As a parent of a small child, I can't always listen to it live. Little C and I used to listen together when she was younger, she absolutely loves the 'Popmaster' jingle. She's just started primary school now so might have more time again now in the morning but until such time then catching up on the podcast it is. It's quite nice as something to look forward to at the end of the day! I never look forward to actually going to sleep due to the troubles my tumour in my head gives me. However, my favourite pop quiz gives me a chance to relax into sleep!

My score varies as anybody who plays along at home would tell you. My highest is 33 and my lowest 3. Quite often I score anywhere between 18 and 27. I've often thought I want to do it, and 'dare' myself to try should I get in the 20's a few days in a row, or bizarrely if one of my favourite 80's DJ's 'oooh' Gary Davies is standing in.


I've been trying to get onto Popmaster for a few years now. You phone up the number given out on Ken Bruce's morning show, and, if you actually get through, you have the opportunity to 'audition' with a member of a team. This consists of answering a set of 5 qualifying questions and also a chat to see if you would make for an interesting contestant. If this part is successful, then your name gets put through to be put on the list of possible Popmaster contestants that week. How do you get on it?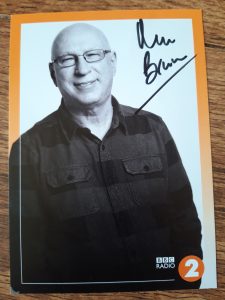 I've phoned many a time and not got through before, and also when I did get through previously I unfortunately answered a question wrong. Ah well! Fast forward a year or so and now we are in My 'audition'
Coronavirus
times. You no longer phone at the moment, you have to email the studio instead. In late July, Gary Davies was filling in for Ken Bruce. I also had some great scores in a row plus I was a little
fed up of lockdown
, so I decided to go for it! I emailed Radio 2 on the 22nd July 2020 with my details, and mentioned as requested my 3 favourite pop passions of Maximo Park / Roxette, 90's pop and Musicals. They phoned me the same day and I managed to answer 5 qualifying questions all correctly (I was in too much of an excited daze to remember them, but two of the answers were Black Box and Gareth Gates)!
The next day I had a call back advising that my name was on the standby list for that day. 10.30am came and went and to be honest I was glad I didn't go on that day as I would have got a really bad score! However, on the 24th July it WAS to be my turn. Excited but nervous would best sum up my feelings! I really hoped I wouldn't screw it up and at least get a respectable score. Playing Popmaster for me is all really about the experience, although to win a prize would be nice!
The morning of my popmaster experience began with the even more lovely event of enjoying our daughter's My Popmaster experience
pre-school
graduation. I had a chance too to not be fretting all morning about what questions Gary would ask me! One of the producers phoned me quite early in the morning to see if I still wanted to play. With the big thumbs up from me, the one and only Gary Davies phoned me at about 10.25am. He told me that I was the first contestant which pleased me as in my opinion the first set of questions are the easiest. The other contestant was a man called David Tiplady from the North-East who was also a big
Maximo Park
fan! I couldn't have asked for a nicer opponent.
I answered my questions with an air of confidence even though I was nervous deep down. Mind fog struck for a couple of the questions and I couldn't recall some answers – in particular a blonde model lady singer of the 80's and naming a former member of Genesis (who had the most obvious names). However, I did reasonably well and gained a score of 21 which I was quite happy with. My score would have been 30 had I answered all the ones I knew, so it was a good set of questions for me. I got to choose between Buddy Holly and 80's Hits for my bonuses so of course went for the latter. Poor David got an instrumental based round which seemed quite impossible. With a winning score of 21, I got through to the 3 in 10. Despite listening to Supergrass a lot in the 90's I could only manage 2 songs in 10 seconds. I won a Popmaster branded bluetooth speaker which now has pride of place in the lounge!

The positives and negatives
My experience was absolutely fantastic and I am so pleased I got to be on. In my opinion I was lucky with my questions (although my Pop knowledge is fairly extensive). Gary Davies was extremely kind and made me feel at ease. Next time I can apply (I think in a year or two's time?) I hope to be able to speak to the legendary Ken Bruce too! Many people, especially those on the Facebook groups and also those that follow the #popmaster hashtag on Twitter were very kind. However some were not. Seems that even innocent radio quiz contestants get subjected to abuse! I had a great time though, and as a bonus even I have had new visitors to my little corner of the web (hello if you're reading for the first time!). I also managed to get a shoutout for
Brainstrust
, who as you know are an
important charity to me
. A bluetooth speaker, some signed photos and the pride of being on Popmaster will stay with me for a long time. If you're thinking about taking part, do it, you have nothing to lose! It's all fun.
How would you have done on the day? Click below for the questions and answers from the day I was on. What would you score?
You can hear Popmaster every weekday morning on
the Ken Bruce Show
on
BBC Radio 2
and also check out hundreds of Popmaster question by buying the
Ultimate PopMaster book
! How did you do? Let us know by commenting below or by joining the conversation on our
Facebook
,
Twitter
and
Instagram
pages.
(Note: this page contains affiliate links, however all views and opinions are my own.)