There's a time and a place for soft play, and quite often it is an absolute blessing to have one at hand when you have a child. Kids always seem to have boundless amounts of energy and it can be difficult to wear them out sometimes! In Leamington Spa, Warwickshire, there's a rather funky new soft play venue on the block. It's name? Dinky's Play Cafe.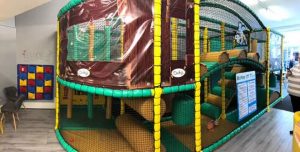 Dinky's Play Cafe is a family run business started by three sisters from Leamington. They have refurbished a former catering equipment shop in Bath Street and created a space for adults and their little ones alike. After thinking that Leamington town centre didn't have much to do for children, they set about creating DInky's. Their beautiful play cafe opened in December 2018 and keeps going from strength to strength. Thankfully after a difficult year during the Coronavirus pandemic, they have now reopened. How did it come about?
Dinky's Play Cafe is on Bath Street, Leamington Spa. It is in the older part of town close to bus stops and the main railway station. It is also close to Court Street and Packington Place car parks, which are literally two minutes away. Where is it located?
What's inside?
We have been hearing quite a lot about Dinky's on Social Media recently. This weekend, the weather has not been kind so we were actively looking for indoor activities. So, we decided to try the new play cafe this weekend. When we arrived, we were pleasantly surprised to find a huge play frame in the cafe. The cost to play is £2 per child (age 1-8) and babies (age 0-1) go free. (Prices correct as of January 2019). The play frame is 'treehouse' themed and is two storeys high and includes amongst other features a double slide, steps, roundabout and rollers. It is suitable for age 2-8. Little C is 3 and she had a whale of a time playing on the equipment. It is big enough for her to run about and climb, yet small enough for us to see her and keep an eye on her. We were especially pleased to find a soft play area that isn't overrun with boisterous older children. Little C enjoyed the slides, the roundabout and just generally enjoying the banter that came with socialising / playing with other children at the time. There is also a section set up with some colouring and also some toys dotted around. We had fun playing with a golf set and also a little bird in a cage whilst we were here.
An ideal space for the younger ones
As well as the main attraction for the slightly older children, there is also a section especially for babies. This is a soft little play area and is ideal for the smallest of children. It is tastefully decorated and also has it's own ball pool. There is plenty of room for parents to stay and play with their babies and there are a table and chairs close by to grab sips of your hot drinks! This section is also gated off, so no need to worry about your little crawlers making a great escape, or the older toddlers and young children to come bounding in. The cafe lends itself very well to parents and their babies. There are plenty of highchairs and even a baby seat in the toilet so you can spend a penny without the fuss. Nobody puts baby in a corner usually, but this corner is a nice one especially suited for the minis to roll and practise their first steps!
What's on the menu?
The cafe offer hot and cold drinks, sweet treat and savoury snacks. My green tea arrived in a lovely cast-iron teapot, it's the little things that make you smile sometimes as a sleep deprived parent! You can choose to have a sweet snack such as a piece of cake (they had several different ones on show when we went) or choose a lunch like a sandwich, panini or filled croissant. They have of course drinks and snacks that your child is likely to consume too. The food and drink prices are very reasonable which is very welcome. The cakes looked particularly tasty, and we look forward to sampling them on our next visit!
We think that Dinky's Play Cafe is a simply wonderful facility for parents / carers and their children and is a fantastic addition to the town. There is certainly nothing like it for miles around that is small enough to be an enjoyable place to go, but big enough for your child to get some good soft play exercise in! It is a perfect place to meet for adults and children alike, and is especially good for those with children of different age ranges too. The staff are lovely, polite and you can tell that they love what they are doing. The food and drink are enjoyable for the adults and the children enjoy the playtime! Win win. We look forward to many more return visits to Dinky's and would definitely recommend it. You can find out more about Dinky's Play Cafe (including opening hours) by visiting their What do we think?
Facebook page
. Have you visited Dinky's? What do you think? Let us know using the comments box below or by joining the conversation on our
Facebook
,
Twitter
and
Instagram
pages.