On Mother's Day this year, I was treated to attending a concert with a difference. My fiance took my daughter and I along to a Mother's Day '
Concertini
', which was a family-friendly concert of 'proper' live music, suitable for little ones and their grown-ups. This was delivered by West End Stars
Mairi Cowieson
and Adam Linstead. We enjoyed the Concertini immensely and were treated to beautiful renditions of all sorts of musical hits. It was a delight to share our love of music with our daughter who was equally delighted with the musical masterpiece!
Curious to find out more, Happy Family Hub spoke with Julia Bentley Dawkes, Founder about Concertini and how it came about.
Hello everyone! My name is Julia Bentley Dawkes and I am a musician, music teacher and mum of two young children. I also run Concertini, a series of bite size live music concerts for children and their families. What is your background and what is Concertini?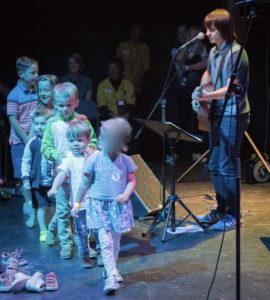 I started Concertini in 2015 to provide an opportunity for families with young children to go and see really great quality Grown-Up Live Music, to introduce them to all sorts of different styles of live music and musical instruments and to inspire them to take up a musical instrument or join a choir themselves! Concertinis can nurture a love of music and provide an opportunity for families to listen to live music in a relaxed community setting. Why did you start it?
A perfect opportunity for little ones to enjoy great quality, grown-up live music together with their families. Each concert lasts approximately 45 minutes and the children can meet the performers afterwards. Sometimes they can even have a go at playing the instruments! What can we expect from a typical Concertini?
Believe it or not, some children prefer to sit and listen rather than dance or sing and that's why our beanbags are so important. Some children have even been known to fall asleep on them! How do children react?
I love the Big Band Concertinis but I also love a sing-along 😉 What's been your favourite Concertini to date? (you can pick more than one!)
We've got lots coming up including a Christmas Sing-along, a New Years Concertini and a Bluegrass Concertini. We also have a Gospel Concertini and another Sing-along featuring the R n Beatles! What can we look forward to in the coming months?
At the time of writing (December 2018), forthcoming show dates are as follows: Forthcoming Show Dates
The Cantorium Choir will be performing highlights from their annual Christmas Concert as well as some well-known carols (audience participation is a must). Christmas Concertini at Cookham Rise Methodist Church. Fri 21st December 2018 – 11am (Relaxed Performance) & 2pm.
A New Year's treat for everybody! Following their sell-out concerts last year, Chamberhouse Wind are back with a delightful performance of Paddington's First Concert. The story follows Paddington Bear to his first classical concert – with disastrous results! Stay on afterwards for the chance to try the instruments courtesy of Dawkes Music. Paddington Bear's First Concert at Norden Farm (Sat 12th January 2019, 11.30am & 2pm).
'Music to make you smile'. Grab your tiny dancers and join us for a toe-tapping 45 minutes of American Bluegrass with a distinctly British twist. With tunes you'll know and others you won't this versatile band will transport you to Nashville via the Thames Valley and back again. Bluegrass Concertini – Half Term at Norden Farm (Tues 19th January 2019, 11.30am relaxed performance & 2pm).
'Music to Inspire You'.  Gospel Concertini – Mothers' Day at Norden Farm (Sun 31st March 2019 at 11.30am Relaxed Performance & 2pm).
Celebrate Mother's Day with an uplifting family concert featuring the astonishing vocal talents of London's dynamic IDMC Gospel Choir. Bring the whole family and enjoy singing, dancing and clapping along to hits by Stevie Wonder, Bill Withers and Jackie Wilson as well as traditional Gospel Songs and Inspirational melodies.
'Music to sing along to'. The R n Beatles perform a blistering set of terrific tunes all played in that great Beatles style! Bring the whole family and sing your socks off to belters like Long Tall Sally, Twist and Shout & Rock n Roll Music whilst the kids dance sing or just chill out on our bean bags. **If you haven't yet experienced the magic of a Concertini, or have been before and can't wait to go again – here's the page where you can find out the forthcoming Sing-along Concertini – Easter Holiday at Norden Farm. Tues 16th April 2019 at 11.30am (Relaxed Performance) & 2pm.
Concertini dates for your diary.
**
You can find Concertini on Where can we go to find out more?
Facebook
and
Instagram
and our website is
www.concertini.co.uk
. Thank you to Julia for speaking to us. We think that bringing live music performances to a young audience is a unique and wonderful thing to do. I'm pleased that my own daughter has had the chance to experience proper music from a young age and also that all these different music styles are being introduced to the next generation! Does your child enjoy music? What is their favourite song? Have they been to a concert to experience live music? Let us know using the comments box below or join in the conversation on our
Facebook
,
Twitter
or
Instagram
pages.