Every day is a book day in our house. As we've spent more time enjoying our house and garden during
lockdown
, we've been reading and enjoying the things closer to home a lot more. We were pleased to discover the 'Roly the Hedgehog book series. I'd say that these books are primarily suited to age 2-6 year old children. They have been great for Little C who has a huge interest in bees and butterflies right now and is also digesting many books in preparation for
starting school
!
*Disclaimer:
Sponsored Content/Ad.
Please note that we were gifted these books for the purposes of this review. This post may also contain affiliate links. However, all views and opinions are our own.*
What is the Roly the Hedgehog book series all about?
There are four books in the 'How can I help' series – Roly the hedgehog, Rory the garden bird, Rosy the bumblebee and Roxy the butterfly. They aim to inspire children to help and nurture wildlife and teach them what they can do to help. Each book is a nice size (not too short, not too long) and gained the full attention of my little one immediately. Each page of writing is accompanied with a brightly coloured picture alongside it. You can't fail to be charmed by each of the characters of these books!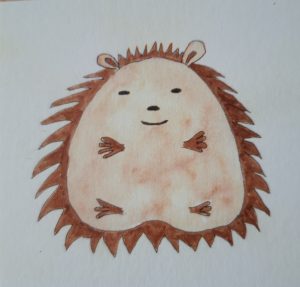 We love the ethos of these books. Instead of being a fictional story with 'fluffy' characters, it is a good example of a factual book that helps children think about the world around them. Frances Rodgers was inspired to help hedgehogs after watching a TV programme featuring Brian May. Together with Ben Grisdale, she put together these wonderful books that show us how to be kind to nature. She donates 10% of all profits from each
Roly the Hedgehog
book sold to
Project Amazing Grace
which is part of Brian May's '
Save Me
' trust.
The storyline
This isn't a story in the traditional sense, but follows a pattern of introducing the creatures and then explaining they need your help! The books have a plethora of practical advice telling you what you can do to help wildlife in the garden such as:
Leave a small bowl of water out for hedgehogs
Plant lots of flowers to attract bees and butterflies
Make sure bird baths are clean and full of water
Ensure your garden is free of nets to avoid trapping birds and hedgehogs
Our thoughts
I was amazed at how beautifully illustrated the books are. Each book has delightful, colourful drawings of the animals in their habitats. Little C loved seeing the picture each time a thirsty creature appeared (you'll see why when you read the books!). The writing uses simple, accessible words that children can easily understand. They are also perfect for those children who are starting to read books themselves.
The characters in these books are so lovable! We have read them over and over again since getting them, and have also been inspired to do an audit of the garden to check that we are doing the best we can to help hedgehogs, birds, bees and butterflies.
Where can I find out more?
You can get your copies from the following links on Amazon:
How can I help…?
(They are also available on the
Roly the Hedgehog website
and also available from other online retailers) 
Be sure also to visit the
Roly the Hedgehog webpage
and their
Facebook page
.The Facebook page contains lots of videos of wildlife visitors. These will enchant and entrance your little ones (and grown ups too). Little C and I have enjoyed watching Hedgehogs feed in front of the night vision view cameras in particular!
Have you read any of the How can I help Roly the Hedgehog book series? What do you do to take care of the wildlife in your garden? Let us know by using the comments box below or by joining in the conversation on our
Facebook
,
Twitter
and
Instagram
pages.