One of a parents greatest pleasures has surely got to be baking with children! I'll be the first to admit that I'm not the greatest baker in the world. However, having fun and spending time together in the kitchen making a mess and producing wonderful creations is definitely the bees knees! What better way to make sure that your little one is ready for some kitchen action than wearing their very own personalised children's apron!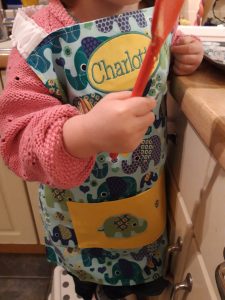 As soon as I suggest baking together to Little C, she is always keen to ensure we have everything we need. Ingredients? Check. Step stool to reach the worktop? Check. Washed hands? Check. Apron on? Check. One essential ingredient of our baking adventures is Little C's new apron from Babahoot. Babahoot make all sorts of personalised items for children including aprons, chefs hats, bags, pencil cases, toy boxes and lots more. By far their top sellers are the aprons, and we can definitely understand why. They are beautiful! Every item includes a different design on bright colourful fabric and are finished with a personalised applique. All the gear (and all the ideas)
The apron we have has a bright blue and green coloured elephant design and is personalised (just in case there's any doubt it belongs to the little lady in our house!). The apron has soft white neck and waist straps and is made to size for my daughters age. Her name appears as an applique at the top of the apron, then around the waist is a pocket with a cute elephant applique design. As soon as we received the personalised children's apron through the post, Little C loves it and always insists on wearing it whilst we are cooking or baking! It's comfortable, bright and colourful, and most importantly it's all hers! (It says so on the front). A beautiful personalised apron perfect for baking!
The apron is reasonable in price (£12 at time of writing). There are different designs suitable to every taste (Unicorns, Elephants, Cars, Bees, Butterflies etc) and they are available in both child and adult sizes. We think they look (and feel) pretty good!). Although fabric manufacturers recommend dry cleaning, the aprons are machine washable. We have have washed the apron on a cool wash (30 degrees c) which is absolutely fine to get it clean and looking good again following a busy baking session.
Apron on and ingredients at the ready, we often like to cook simple fairy cakes together. It is fun to mix the ingredients, lick the bowl (always the fun part) and then put them in the oven and wait for them to turn into marvellous little fun cakes ready for decorating. Looking for a simple cupcake recipe? We use this one and find it produces nice, light, tasty cakes. Let's get baking!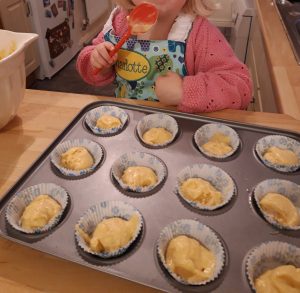 You will need:
125g self-raising flour
125g caster sugar
125g butter (softened at room temperature)
2 eggs
Pre-heat your oven to 180 degrees c (160 degrees c for fan ovens). Mix together the butter and sugar in a bowl until smooth and creamy. Add the flour in and give a good mix around. Electric whisks are good if you have them, we often just use a spoon though! Once this has been mixed through, add the eggs until you have a gloopy delicious cupcake mix. Add to cake cases in a cupcake / muffin tray and bake in the oven for approximately 15-20 minutes or until golden. When cool, decorate as required!
Baking is always something that we enjoy as a family. It is a creative activity to do and also teaches children about simple science (how ingredients mix, how they are altered by heating etc). You can incorporate numeracy (counting and measuring) and also art (decorating). It is also a way to make a tasty treat that are perfect to enjoy yourselves or give as gifts. The Great Family Bake Off
If you'd like to find your own personalised children's apron, you can find Babahoot on Where can we get ourselves an apron?
Amazon
and
Etsy
. Theresa, Founder of Babahoot is passionate about the products she makes and enjoys reading the lovely customer reviews she receives. From her first domestic science lesson at school (making herself an apron) to leaving her IT job in London and moving to the countryside with her embroidery machine, she loves to create special homemade gifts. We're glad she does too as they are simply wonderful products that make baking even more special. You can also find Babahoot on Social Media on
Facebook
,
Twitter
and
Instagram
.
What do you like to cook with your kids? Are you a whizz in the kitchen or is it messy but functional / dysfunctional? Let us know by leaving a comment below or by joining in the conversation on our Cooking with kids = making memories
Facebook
,
Twitter
and
Instagram
pages. (Disclaimer: We were gifted a personalised children's apron in exchange for an honest review as part of this blog post. The blog post may also contain affiliate links. All views and opinions are my own.)