World Book Day creeps up on us every single year. Now that our daughter is growing older, we're becoming more aware that it's not just a fancy dress competition (although dressing up is fun!), but a true celebration of books and reading. With that in mind, we wanted to write about 10 recommended books for toddlers and preschoolers that can be enjoyed on World Book Day and beyond. What will you read with your little ones next?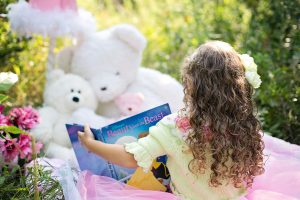 Reading with children has many benefits. It is the first step into helping them read for themselves, sparks imagination, entertains, relaxes and helps you bond together. It certainly is part of our daily routine and I can't imagine a life without several books a day! With that in mind, our 10 recommended books for toddlers and preschoolers (in no particular order as we cannot pick a true favourite!) are as follows:
Perfect for little ones that struggle to understand their emotions. This story is about a little girl who wakes up in the morning and Grumpy, Grumpier and Grumpiest are waiting for her. The story follows her struggles to shake them off! 1. The Three Grumpies  – by Tamara Wright & illustrated by Ross Collins
Postman Bear – by Julia Donaldson & illustrated by Axel Scheffler
This is a beautiful lift-the-flap picture book about Postman Bear, who delivers letters to his friends Frog, Squirrel and Mole. What was in those letters? An invite to his birthday! This is part of the Acorn Wood series, which also contains the famous 'Fox's Socks'. 2.
The Mog series is written by Judith Kerr, who created this fantastic feline character as well as also writing 'The tiger who came to tea'. Mog's peaceful day is shattered when a baby comes to visit. Mrs Thomas says that 'Mog loves babies' but Mog isn't quite so sure! 3.
This book is a new discovery for us, thanks to our local library. The story is set at one little girl's lunchtime where she just won't eat but then she is visited by a crocodile, bear and wolf who would be quite happy to gulp it down for her! As a parent of a child that can be fussy at meal times, I find this book quite helpful and also funny. 4.
The Maisy series is brightly coloured and the characters are very relatable to little ones. This book is about learning to swim and I can honestly say that this has helped our little one to gain confidence in the water and try it out for herself. She always relates this book to what she can do in the swimming pool. Just watch out for Eddie and his big splash! 5.
Many a pre-school imaginative game revolves around pirates! Swashbuckle is on our television most days and we often read the classic story of Peter Pan. This is a book about Captain Pike, a Daddy who takes his baby to look after for the day on-board the pirate ship. How do the pirates fare looking after a newborn? 6.
Strawberry Monkey is a tale of friendship based on a cute, pink, lovable but somewhat clumsy monkey. This story teaches a valuable life lesson about staying safe in the sun. Our daughter always loves reading along with this book and also looking at the bright colourful pictures. 7.
Check out our review of the book right here
!
Not the most typical of books, this is a special personalised book created by My Magic Story (The Story Tailors). This is the story whereby your child (the main protagonist of the story) ends up meeting her Liverpool FC and playing at Anfield. It is a tale of hope, dreams, friendship and teamwork and is very inspiring. Our little girl loves the personalisation and imagining herself in the story and also the pictures. 8.
Check out our review of the book right here
!
Lauren Child is the former Waterstones Children's Laureate (2017-2019) and the author of the Charlie and Lola books. We love the illustrations, the repetitive nature and the personalities featured in these books. This one, once you have got round the tongue-twister of the title, is great for fussy eaters. Follow the story to find out how Lola ends up trying some of the foods she'd previously refused! 9.
Wriggle and Roar – by Julia Donaldson & illustrated by Nick Sharratt
If your little one enjoys being part of the story rather than listening, then this fun rhyming book from Julia Donaldson and Nick Sharratt has something to involve everyone. Your child can hiss like a snake, shrug their shoulders and dig the garden amongst other actions. The illustrations are fun and the poems quirky and involving. " 10.
Whenever I'm tired of being me I swing around like a chimpanzee." If you're tired of being you then here's a whole book full  of things you can do!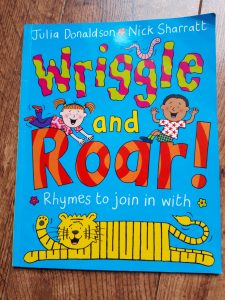 It has been hard to pick just 10 wonderful children's books for this blog post, but we have enjoyed sharing some of our favourites and hope you enjoy them too! These are definitely highly recommended books for toddlers and preschoolers. We'd love to hear about your child's favourite book. Let us know which one they like the best by commenting below or by joining in the conversation on
Facebook
,
Twitter
and
Instagram
. Happy Reading! (Note: This blog post may contain affiliate links, however all views and opinions are my own.)