Once upon a time, the C word mostly meant Christmas. However, in times like these, the C word has meant Covid-19 aka
Coronavirus
which has put paid to a lot of our everyday pursuits. The theatre industry has been hit hard, with all indoor venues having to shut and outdoor performances only recently able to resume. The last time we went to the theatre was
last Christmas time
. But we were lucky to be treated to our first piece of theatre for a long time at Studley Cricket Club. Here is our outdoor theatre review of Wind in the Willows by
Tread the Boards
.
Outdoor Theatre treat – Wind in the Willows by Tread the Boards
Tread the Boards
are an award winning theatre company based at the Attic Theatre in Stratford-upon-Avon. Founded by Catherine Prout and John-Robert Partridge in 2009, they pride themselves on producing a unique theatre experience in Stratford-upon-Avon. They are pleased to be performing the Kenneth Grahame classic 'Wind in the Willows' throughout August 2020 on a tour around Warwickshire and the West Midlands.
The company say:
We are extremely excited to be returning after lockdown, touring around Warwickshire and the West Midlands, including multiple outdoor venues in our home of Stratford-Upon-Avon. We are an outside, family friendly show and have taken measures to ensure the comfort and safety of our audiences.
It's been a while since I read 'Wind in the Willows', and it hasn't yet reached our bookshelf with our little one, but I remember with delight about the characters of Toad, Badger, Mole and Ratty and their adventures on the river bank and the wild wood. This is a very much modernised version of Kenneth Grahame's classic children's story which the company delightfully bring to justice. What is the show about?
Toad (John-Robert Partridge) is a bit of a crazy character with an obsession with motor cards. His friends, grumpy Badger (Pete Meredith), knowledgeable Ratty (Joe Deverell-Smith) and clumsy but lovable Mole (Alexandra Whitworth) try to put him on the straight and narrow. However, he gets himself into trouble ending up in jail. After his escape, his friends help him out to recapture his property 'Toad Hall' and save it from the evil Stoats and Weasels! The plot line
The storytelling in this performance is an absolute delight and a treat for all members of the family. We watched this with our 4 year old daughter who loved the show from start to finish (as did we) and loved seeing the characters come to life. Even though there was no river, Ratty and Mole still found a way of rowing down it. The stage was beautifully decorated with artifical grass to create the sense of the river bank. And Toad's 'motor car' is hilariously portrayed! (You'll have to watch it to see what I mean!) A treat for all members of the family
The company performed with a huge amount of charisma and their passion for bringing this classic tale to life was an absolute joy. The actors did a great job in behaving as their respective animals. Ratty with his ratty face and paws. Mole (who lives in a hole) with her rounded face and inquisitive nature. Badger with his fetching black & white hairdo and Toad with his big round belly. The river bank animals come to life!
A few surprises
The fact that we have spent the last 5 months or so under
lockdown
has not been forgotten by the production company. Toad, Badger, Ratty and Mole manage to shoe-horn many Corona related references into the show. This must be the first play I've seen where characters actively anti-bac their hands! This was one of many topical references which provided light relief to the situation we currently find ourselves in. The jokes (virus related and not) were extremely funny, the slap-stick well choreographed and the use of music perfect with the story. The lip-syncing scene that takes place to the tune of a Queen classic kept us on the edge of our seats.
Tread the Boards are so happy to bring live theatre back and we are happy to have seen one of their first performances. It is such a shame to see the arts industry suffer and it is great to be able to support them whilst enjoying theatre again. Yes, it's not inside but that does not matter. We have luckily enjoyed warm weather so far this summer. If it rains, bring an umbrella! (We are British after all, expect all types of weather). The tour takes place in outdoor venues that have been specifically chosen for their size, setup and location. Bringing the glory of live theatre back
Little C has also definitely been inspired. She is a budding little actress herself and it has been a while since she had the Inspiring others
opportunity to perform
. She would definitely like to take part in things like this herself in the future and it is great to see theatre companies interact with the community. They certainly ignite the passion for theatre for anyone who likes to watch and also partake!
We attended the performance at Studley Cricket Club in Warwickshire near Redditch. The organisers assign a socially distanced 'pod' measuring about 3 metres to every household or 'bubble' who booked tickets. These were spaced out to adhere to social distancing. Here, we could set up our own picnic blankets or chairs. Limited numbers of tickets are sold so the audience size was not huge and everyone is given an arrival time so there is no queuing. Socially distanced seating
Audiences are able to take their own picnics or purchase food or drink available on the day. We enjoyed a few drinks (alcoholic and non-alcoholic) and also a few ice creams which were bought around for sale. Anti-bacterial hand gel was readily available, ushers wore face-masks and the toilets at the venue were clean. So, if you're hesitant to go to a performance in these difficult times, you can be assured that this is one of the safest activities to enjoy. Safe as houses! (but not Toad Hall)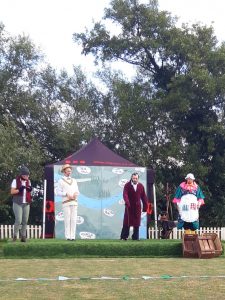 The family friendly tours venues around Warwickshire and the West Midlands from 1st – 31st August 2020. You can visit When and where can I see the show?
The Attic Theatre website
to see a complete list of dates and venues and
book tickets
. You can contact them by email at
boxoffice@theattictheatre.co.uk
or you can telephone them on
07748 479507.


Have you seen this show? Let us know what you think by using the comments box below or by joining in the conversation on our Join the conversation!
Facebook
,
Twitter
and
Instagram
pages.
(Note: We purchased our own tickets for this performance and have written this review to show how much we enjoyed it. All views and opinions are our own.)