One of the greatest pleasures on any day with our little one is the chance to snuggle up and read a book together. Whenever we find a
new book
it is very exciting, so we were very pleased when we discovered 'Strawberry Monkey Loves the Sun' which is part of the 'Ohhh, My Strawberry Monkey' series by Allan Thompson. These books are mainly aimed at preschoolers (aged 2-5) – although can be enjoyed by anyone.
The 'Ohhh, My Strawberry Monkey' books tell of the main character called Strawberry Monkey and is primarily a tale of friendship and lessons in life. He is a cute, pink, lovable (but sometimes clumsy) monkey who always seems to end up in wacky! and crazy! situations. He learns valuable lessons with the help of his best friend Betty Giraffe who is always around to help. Who is Strawberry Monkey?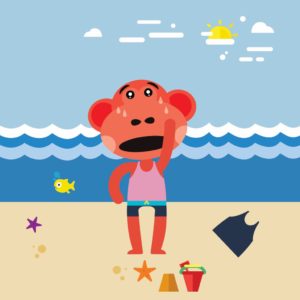 It's a very hot day and Strawberry Monkey is enjoying himself in the sunshine. He loves playing music in the sun, taking a bath in the sun and enjoying the sea in the sun. However, he doesn't notice that's he getting 'redder, redder and redder'. Strawberry Monkey ends up getting burnt by the sun, when Betty Giraffe comes to his aid and reminds him about wearing suncream to protect himself! He then agrees that he should wear the suncream in future 'especially if I don't want to end up looking like a tomato again…'! The storyline
What struck us most about the book is the bright colours and cheery illustrations. Whilst reading up about the author, it seems he never intentionally aimed to become a children's author. Some of his other 'day jobs' include working in web, logo and graphic design. Through fate he ended up creating the 'Ohhh my Strawberry Monkey' books. He does a great job and falls naturally into the profession as the book we read looks great has a very engaging storyline. We thought the character was very lovable and real (despite being a strawberry monkey of course). The book has some great messages in. It is important to stay safe in the sun to protect from sunburn and cancer (love the fact that he is using SPF50 too!). We also liked the fact that it is a great story to show that it is only human (or monkey?) to make mistakes and that you should learn from them. Friendship, common sense and learning win the day! We had such fun reading this book and it has been a hit in our house ever since. Our thoughts
Where can I find out more?
You can get your own copy of "Strawberry Monkey Loves the Sun" on Amazon. You can also visit the
My Strawberry Monkey
website to buy a copy of the book and also access lots of bonus Strawberry Monkey content. The website also has lots of activities and games to enjoy with your child. Do check it out, you won't be disappointed. Ohhh my, you'll even be left with a cheeky smile upon your face! Disclaimer: This post contains affiliate links. The author gave us a copy of the book for purposes of this review. All views and opinions however are my own.