The beginning of this school term has marked a big change in our household. Our little baby girl has finally joined pre-school! She's not a
stranger to nursery
 (she went whilst I briefly returned to an office based job part-time), but she hasn't been for a while now since
moving house
. She's more than ready for some pre-school action now! We have been busy preparing for (pre) school and one thing that has been imperative is making sure all of her clothes and belongings have name labels!
One of the things I remember from my childhood in the 1980's was my mum sewing on name tags to all my clothes. I have basic sewing skills but as a 21st century parent I tend to look for convenience whilst not comprising on quality. This is where My Nametags ticks the boxes! I first discovered My Nametags as their products and easily recognisable teddy bear logo kept flashing up on my social media feeds. They are in a nutshell, name labels for your son or daughter's belongings. They can be personalised with your child's details, together with a design of your choice. The sticky name labels go on clothing and shoe labels, lunchboxes, water bottles and much more. Step Forward, My Nametags
Ordering with My Nametags is really easy. The website is visually very attractive and easy to use. Little C and I sat down to decide what to order. There was a choice of different types of labels. I opted for sticky labels, but you can also go for iron on tags too. Once you've decided on which type to have, then comes the fun bit. You / your child can choose how to make your stickers your own. A wonderful range of designs
Step 1 – choose your type of nametags. As mentioned above, we went for the colour stickers. You can also opt for iron on labels, black & white stickers / iron and even themed sets. At time of writing (January 2019), they currently offer Mr Men & Little Miss, Battersea Cats & Dogs, and many a child's favourite feline icon – Hello Kitty.
Step 2 – design your nametags – add the text. Each tag comes with line 1 as standard, with the option to add a 2nd and 3rd line, so you can add additional information such as telephone numbers if required. We just chose Name & Surname on 1 line to begin with. You can also choose what font type and colour you would like.
Step 3 – design your nametags – add the design. You and your child can pick one of a huge selection of icons to match your child's interest. We opted for a pink unicorn (of course) but there are many different types of icons – animals, transport, food, so there is something to suit all tastes.
Step 4 – design your nametags – add a background. You can either opt for a plain or a patterned background. Little C cannot get enough pinkness in her life, so we went for a pink background with purple spots.
Then, we were ready to order! The design process is quick, simple and fun. Once you are ready, you add your items to the basket and checkout. Then, wait for your goodies to arrive!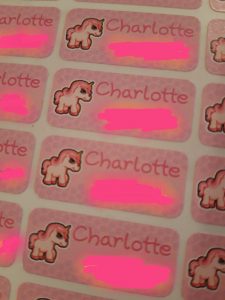 The sticky labels came through the post within a week, so came within plenty of time to start getting organised for pre-school. Little C was very excited when she saw the teddy bear logo envelope arrived and immediately recognised that the post was for her. She remembered sitting down to order them together and was very pleased with her pink unicorn design! Like parents up and down the country, I have been busy in the lead up to the new term ensuring that all of her clothes and numerous bits and pieces are labelled. We have successfully used these on clothes label, inside shoes, on toy labels and on water bottles. They stick on well and have already been through the washing machine and dishwasher. My Nametags colour sticky labels and others in the product range are 100% dishwasher and washing machine safe, which works well knowing how often things go through those magic cleaning machines! The labels look good and both parent and child are very happy here! Using the stickers
Now let's hope that all missing items get returned easily now. I seem to spend half of my life retrieving lost items and making sure they're in our bag! Luckily, our unique pink unicorn name labels are easy to spot and have all of our details.
As you can guess from our review, the name labels from My Nametags earn a huge thumbs up from us! Easy to use, reasonably priced and popular with the little one too. It's made labelling our items ready for the new term quick, easy and fun. You can order them by visiting the Where can I find out more?
My Nametags
website. Happy Labelling! (Note: We received this product from My Nametags in exchange for an honest review, however all views and opinions are my own).