It's Christmas time. It kind of feels like Christmas but it's very, very different.
Coronavirus
continues to change all of our lives with all of us living under restriction. But there's one thing that Christmas wouldn't be Christmas without and that is Pantomime! And local theatre company from Stratford-upon-Avon is once again showing us why the show must go on. Tread the Boards present to Warwickshire – Cinderella! One of what has got to be the UK's only outdoor pantomimes in 2020.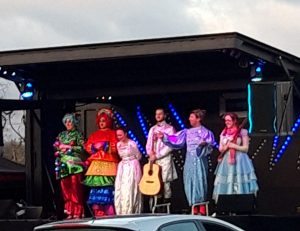 We Outdoor Theatre
first moved to Warwickshire
back in 2018 and have been blessed with the amount of opportunities to enjoy the arts. We first came across Tread the Boards in the first lockdown of 2020, where they performed an outdoor theatre performance of 'Wind in the Willows' at Studley Cricket Club (
see our review here
). Think ice creams, comfy camping chairs, cold drinks, sunglasses etc. Lockdown over Summer was so much easier, right?
It was a high quality, entertaining and extremely funny show which both us parents and our little one enjoyed. They have continued to 'pivot' and change their ways in order to work around the pandemic in order to keep the performing arts alive.
So when we heard that Tread the Boards had come up with a crazy idea of OUTDOOR pantomime for Christmas 2020, we were delighted to attend when we got the chance! Now, behind every great fairy tale is a catalogue of errors, and the company themselves have had to jump a few hurdles to ensure the show has continued to entertain us! Outdoor Pantomime? Oh yes it is!
having to ensure the show meets all the latest Coronavirus rules and regulations
originally being set up as an outdoor panto with bring your own seating and then being changed to a drive-in pantomime
on Christmas Eve having to rescue set from knee-deep flood waters and find a new venue at the last-minute
They really have pulled out all the stops to make sure that Cinders goes to the ball!

What did we think?
We attended the pantomime at a hastily re-scheduled venue of the Stratford Park & Ride. Never in my life did I think we would ever attend an outdoor pantomime at a car park but there's a first time for everything! We set up our car so that Little C could snuggle up in the boot under a duvet with some big comfy cushions and hot water bottles. We all drank hot chocolate and ate snacks and enjoyed the performance.
The panto which is performed on a brightly lit stage is just over an hour long which is perfect for little ones (and us parents standing outside in the cold). The small cast of 6 bring life and colour to the story of Cinderella with charm and wit. Cinderella, Buttons, Fairy Godmother, Prince Charming and the Ugly Sisters are a delight – and the costumes are amazing (my personal favourites were the European ones). The songs are catchy, especially the 12 days of Christmas. Little C could not stop giggling at this one.The traditional story is littered with lots of humour – including Coronavirus, Brexit and of course it wouldn't be panto without jokes for the Dads thrown in. All in all a very entertaining afternoon out. Tread the Boards really did save Christmas!
At time of writing, Cinderella has already been performed at Wethele Manor, Leamington Spa, Stratford Racecourse and Stratford-upon-Avon Park and Ride. Outdoor Pantomime Performance Times & Locations
The next performances will be as follows:
Tiddington Home Guard Club – 26th-31st December 2020
Binton Social Club, Stratford-upon-Avon – 2nd-3rd January 2021
For ticket details, please see
The Attic Theatre website
.
You can also telephone them on 
07748 479507. Toilets and hot drinks are available at all venues, although you are also welcome to bring your own refreshments.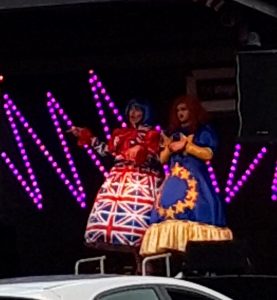 Join the conversation!
Have you seen this show? Let us know what you think by using the comments box below or by joining the conversation on our Facebook, Instagram and Twitter pages. 

(Note: We received tickets to attend a performance of this pantomime in exchange for this review. However, all views and opinions are our own.)