The blog has been quiet for the last few weeks, and there's a good reason for this – it's because we've finally moved house! We've recently moved to Warwickshire into our new family home. We wanted to settle in a new area for a number of reasons, the main ones being a great place to bring up a family, an area with lots of good schooling and also be located equally between our two families. After almost 3 years of searching (Little C's lifetime), we ended up choosing to live in Warwick.
The whole house move process can be a tad stressful, so we thought we'd share some tips in this bumper blog post based on what we've learned and also share the opinions from some other parents too.
1. Before the move
Enthusing and explaining
Explain things well before the move. Even though Little C is only 2, we have always been upfront about moving and explaining what was going to happen. You would be surprised at how much they do actually pick up!
"Show them photos of the new house in advance and talk to them about it and tell them nice things about your new area. When you get there, try and set up their room as similarly as possible for some continuity." Louise – Pink Pear Bear.
Keep calm and excited (rather than nervous and anxious). This can be easier said than done, given how stressful house buying and selling can be, but save the worries and discussion for away from little one's earshot. Children pick up easily on emotions, so make these positive ones!
Let your child pick their own room (if possible). 

We visited the house we bought a number of times before moving here, and always took C with us. When we knew the house purchase was pretty much confirmed, we invited her to choose which bedroom she wanted so she could take 'ownership'. This definitely helped in exciting here and visualising her new room!
Routines and potty training
Keep to routines as much as possible. 

Babies and toddlers thrive on routine. It's quite easy to forget about down-time and regular snacks, but it's important to keep these up. Also make sure you schedule in regular fun activities amongst the house move activities.

Don't start potty training before the move. Personally I'm in two minds over this one as we managed to successfully potty train C before our house move (more about this coming in a future blog). The house move was delayed by about 8 weeks and with the long hot summer we were treated to, I thought it'd be a waste not to! I was glad we did as it has meant that accidents mostly took place in our old house and not over the floors and furniture in our new house. Result! However, as with any parenting 'know-how' (see our tips for taming toddler tantrums), each child is different so you need to find what's best with you. Some parents would definitely not suggest potty training before a big move.
"Do NOT start potty training when you're just about to move! We had my step-daughter sat on the potty in a bare living room while boxes were being unloaded and chaos was all around. Less than ideal!" Katie – Mum of 2 point 5.
2. During the move
Packing and saying goodbye
Let your child pack their own belongings.

Toddlers like to be involved with everything, so it is a great idea to let them help pack their own belongings. (Yes you can always re-do the shoddy packing once they've gone to bed!). Get them to put what they'd like to take in a box. We decorated one of our boxes with an elaborate circus drawing. Once at the other end you can show them this box to demonstrate how everything has been brought across from one house to the other.

Say goodbye to friends and look for new friend-making opportunities at the new place.

Let your child say goodbye to their friends and make arrangements to keep in touch. This has been particularly heart-wrenching if I'm honest. We thought at the age of 2 she wouldn't have made lasting friendships yet, but she had made some special friends who have been hard to say goodbye too. It's been important to be honest and open though and this has helped. Also, it's been so fruitful to provide opportunities for making friends with new children at the other side.
House moving day!
Get as much help with childcare as possible!

This has been invaluable for us as we've tried to finish packing and also DIY and decorating at the other end.
"We moved with a toddler three years ago. We not only moved house but we moved country as well, although I don't think he noticed that change. For us it helped to have lots of other family members around to help. Some entertained him while others helped to pack and unpack. It also helped us to keep up his routine for naps and bedtime so he didn't get overtired." Suzy – Our Bucket List Lives.
Let someone else do the moving for you.

In our previous life (pre-children), we always hired a van and did it ourselves. However, fast forward to 2018 and we have a 4 bedroom house brimmed full of belongings, acquired a heavy sofa and oak bed, and also have a toddler at our ankles requiring lots of attention. We decided to use a removals company on the day to move our things and this was one of the best decisions we made. We used

Berkshire Removals

who we highly rate and definitely recommend. The service was second to none. The removals men worked quickly and efficiently, and nothing was too much trouble. They disassembled our furniture and re-assembled at the other end and they also were excellent with our toddler on the day. Even when she was stating "I need to get out of the way now and be careful" whilst running under their feet!
Taking breaks and having the essentials handy
Take regular breaks on moving day to do fun things. We found it was a good idea to take C away from the activity of what was happening around her. We went to the park in the morning and also went to a cafe for lunch. It provided her with some sort of continuity on an otherwise strange day.
Ensure you have a 'go bag' handy. We had a separate bag with all the essentials – favourite toys, snacks, books, our phone chargers etc which was always accessible during the day. It ensured that our little one didn't get bored or distressed, we could keep a charged phone (for hearing from solicitors!) and we had everything we needed to hand. We also recently invested in a Kid's Amazon Fire which was useful for electronic entertainment once the television was unplugged.
"Pack a separate bag with their 'essentials' (colouring book, favourite toy, snacks etc), preferably in a little backpack they can keep with them. If they need something, you don't have to find the right box and dig through everything. It'll be much easier to keep them entertained during the boring bits!" Rebecca – Becca Blogs it Out
3. After the move
Welcome to your new room!
Sort out your child's room first.

It is best to get their room sorted first. We found that by unpacking familiar toys, C could get used to the fact that she had a new room/house quickly. It helped re-assure her that her possessions packed in boxes hadn't disappeared for good on the lorry!
"Set their room up first so they have some normality for bedtime routine / play etc." Lianne – Ankle Biters Adventures.
Keep all screws and allen keys together. 

This ensures that furniture can be put back together ASAP on the other side. Hell hath no fury like a toddler who's unable to sleep in their own bed because you can't put it back together!
"Don't lose the Allen key for the bed or cot" Nellie – Nellie Pom Poms.
Involve them in decorating decisions!

We let Charlotte pick a new colour for her room. Her bedroom needed redecorating so we took her to the shops and let her pick a colour she wanted. We ended up with Fairy Dust pink, her own stamp on her room! She also chose to accessorise with this gorgeous Disney Princess lampshade.
Giving extra comfort and establishing a new routine
Give extra comfort.

Bear in mind that toddlers could be extra clingy or suffer nightmares as they adjust to their new surroundings. Be extra patient and deliver extra cuddles where need be! They like to feel safe and secure. A few times we've woken in the middle of the night but it's helped by both of us just being there for her and comforting her when she finds things tricky.

Maintain routine and establish your new routine as soon as possible. Moving to a new area has proved a little difficult, as C's very fond of the activities she used to attend (such as Bracknell Trampoline Centre and Dormy House Toddler Group) and her friends who lived in our old hometown. However, it's been fun establishing a new routine, discovering new classes, meeting new friends and creating a new sense of normality!
Get a food shop in as soon as possible.

Ensure you're all eating well and regularly – a takeaway on the first night is great but you still need your regular fruit and vegetables with your meals!

Explore your new surroundings. 

Explore the area, find the parks (most important!), meet the neighbours etc so everyone can get used to things quickly. You may find by talking to neighbours and new friends you also get tips about the area. We've been told about a few toddler classes which has been great in getting us 'established' in the area.
4. Practical tips
We found that we had to make list upon list of things to remember during the house move. We had a plastic folder full of documentation related to the house move. As it was all in one place, it was easy to access. We also found it handy to remember to do the following:
Updating DVLA, obtaining new photo ID & registering with doctors
Update your address on your driving licence ASAP. The DVLA make it easy to change your address on your driving licence online. Your new licence will come through to your new home quite quickly and provides you with a form of photographic ID which will be handy in proving your address to companies and organisations. If you own a car, don't forget to change the address on your log book too to avoid fines!
Register you and your family with a doctor. 

You may find that it takes a few days to get registered for your new doctors, however this is better done sooner so you are appointment-ready once the time comes. This is especially important if you also have regular medication.
Taking meter readings and changing address / redirecting mail
Take meter readings.

As soon as you move in, make a note of the meter readings and start to contact the utility companies to negotiate rate and get the bills sent out in your new name.

Notify the local authority that you have moved in.

Notify the council for council tax purposes and also ensure you're on the electoral roll in your new hometown. We also learned that you should also notify your old council that you've moved out so you don't get any unexpected council tax bills.

Change addresses with companies & set up mail redirection. There are some useful websites to help you with this such as 'I am Moving' which also provides useful categories of organisations that you may need to inform. In the interim, you can also consider redirecting your mail to catch any mail  from people that you weren't able to inform. Royal Mail provide an easy, cost-effective mail redirection service which you can arrange online.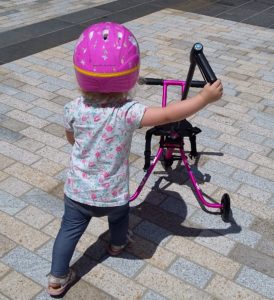 Moving house soon?
Moving house has been an eventful time for us all, and our toddler has coped remarkably well. It can't be easy for them to see all their personal belongings disappear on the back of a lorry only to appear again in an unfamiliar environment. However, by remembering to follow some of our own advice, this process has run as smoothly as possible and we are now enjoying our new home and getting to explore the new area!
What would be your number one piece of advice? Comment below or join in the conversation on our Facebook, Twitter and Instagram pages. If you're just about to move house yourself, GOOD LUCK!
*Note this blog post contains affiliate links, however all views and opinions are my own.*