Coronavirus certainly has a lot to answer for this
funny old year of 2020
. We've become so used to this unusual new 'normal', we've survived
homeschooling
(but still wondering if this will be happening again in the not too distant future) and had our lives with friends and family and usual routine all shook up. However, another aspect of our lives it has affected is birthdays (and especially those of our children). So what are the best ways to celebrate kids' birthdays in lockdown?
We have just celebrated Little C's 5th birthday (i can't quite believe it!). Our little baby girl has now The big 5!
started school
and is growing older day by day. We were very happy when Moonpig sent us gifts and decorations to help us celebrate. At first she was a little miffed that a big
soft play
or
trampoline park
party was off the menu. She also was sad that she couldn't invite all of her school friends around. But, where we live meant that luckily we could have a small gathering (with 3 of her friends) under the rule of 6. Here are some ideas that we found useful in making her birthday extra special!
12 ways to celebrate kids' birthdays in lockdown

1. Organise some colourful balloons to mark the occasion
I remember as a child the fascination of a balloon. I LOVED them. Whether it was a novelty shaped balloon, or just lots and lots of round ones, I was very pleased if balloons were involved. They also make it special. We had a collection of balloons to decorate for Charlotte's birthday which also included a 'Happy Birthday Daughter' pink sparkly one and a giant number 5 which were her favourites.
We created a HUGE 2. Create a personalised birthday card
personalised birthday card on Moonpig
. It had Princess Aurora on it (Sleeping Beauty as you will) and Little C's smiling face. She was impressed to see her favourite princess and at the size of the card. You can even choose a personalised jokey one about coronavirus if you like!

3. Get your child to help decorate the house for a party
We had great fun making and hanging the bunting, putting banners on the wall and also putting party snacks on pink themed tableware. Moonpig also sell lots of items to brighten up your party, we even found some rainbow chrysanthemums (see picture below) within their
flowers and plants
. You could make your own bunting or paper chains very easily and also happy birthday posters!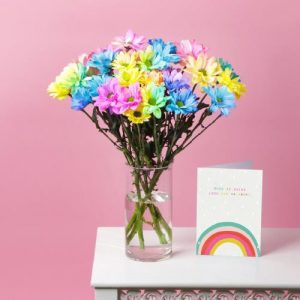 We usually hold a party with some sort of entertainment or activity. It wasn't a big party with 4 children in total, but it was nice to provide some sort of entertainment in the form of party games. We got some mini nerf guns that they had fun shooting, hit a pinata and pinned the tail on the donkey. 4. Set up party games
As well as the traditional birthday cake (chocolate with lots of sprinkles), Little C and I also made chocolate brownies with one of the gifts from Moonpig, a BakedIn Make your own chocolate brownie kit. It was a great activity to do together and also productive as we then had more sweet treats we could share around! 5. Make some sweet treats to share
We found that with fewer children, they could focus on each other and what they were playing with more easily. Little C and her friends are quite arty, so they could enjoy some craft activities set out for the party. Glittery scrapbooks, bookmark making, mosaic pictures, friendship bracelet making and fridge magnet making are just some simple yet effective ideas. 6 . Arts & Crafts at smaller parties are win-win
When there's fewer children to make party bags for, there are more options for your budget. Little C has girl and boy best friends and sometimes the boys get fed up of things that appear too 'girly' (e.g pink, unicorns, mermaids etc). Therefore, for each child this year I tailored an individual party bag to their specific tastes. It was nice to pick one or two nicer bits than bulk-buy lots of the usual party pieces. 7. Create individual tailored party bags
It's not about how much you spend, it's the thought that counts. If your child receives something they've always wanted then they will be amazed! There are so many 8. Buy some thoughtful birthday gifts
great gift offerings on Moonpig
– they are categorised so it is easy to browse. We tend to buy more smaller presents rather than a 'big feature' so there is more to enjoy. I've also given more consideration to gifts that are educational (puzzles) or keep little fingers busy (arts and crafts) so they can be used time and time again during all this extra time we're spending at home.
Which child (or infact adult) can resist a dance to some great music? Fire up your smart speaker, put on the best party tunes and dance away. Discos are a great feature in our house. We put on disco lights, get glow sticks out and show off our funky moves. 9. Time for a disco!
Dependent on your bubble situation, your child would DEFINITELY enjoy a sleepover. Midnight feasts and chatting deep into the night. You could set sleeping bags up in the lounge. Fairy lights and hot chocolate with marshmallows would be an awesome touch! 10. Hold a sleepover
Instead of 'regular' party food, you could make a special afternoon tea to treat your child on their birthday. You could have sandwiches cut into small pieces (fairy sandwiches as we call them here), cakes and biscuits galore and cucumber pieces and a large jug of squash with plastic champagne flutes and cocktail umbrellas. Afternoon teas also lend themselves quite well to an Alice in Wonderland theme! 11. Have an afternoon tea
We can't see as many people as we'd like during lockdown. We spoke to Grandma and Nana via video call and Little C saw some of her best friends during her little party. An idea for  lockdown birthdays might be to hold a video message viewing party, and get as many people as you can send a little video with their happy birthday greetings. You could also consider throwing a virtual birthday party. There are many party companies who now have virtual offerings and will make your child's birthday go with a bang! 12. Go virtual!
There are so many things that you can do to make these birthdays special, more intimate and one to remember. Moonpig provide so many things
on their website
. Ordering is very simple and delivery is fast and easy. Coronavirus and
lockdown
don't have to ruin birthdays.
How have you celebrated your child's birthday during lockdown? Any top tips and things that have gone down well? Let us know by using the comments box below or by joining the conversation on our Join the conversation
Facebook
,
Twitter
and
Instagram
pages.
(Disclaimer: We received products from Moonpig in exchange for this post. However, all views and opinions are our own. #AD)