There's one thing predictable about the weather outside and that is that it's totally unpredictable! Just as you think we're in for a few dry days outside, then the heavens open and it rains. With that in mind, it's always a good plan to have some ideas of what to play / do when you're stuck inside. It could be rain, it could be chicken pox or a
stomach bug
. If you're home-bound, don't get cabin fever, you and the children can have fun. With a little help from our friends, we've come up with a list of indoor play ideas – activities for you and the kids to enjoy. What will you do today?
My two love doing this and seeing what they can create! – Lianne ( 1. Papier Mache Crafts
Anklebiters Adventures
). Here's a
handy recipe
for making your own papier (paper) mache!
Create a mini family festival where each person gets to choose a movie of choice that no one has seen before. – Leyla ( 2. Create a Mini Film Festival / Cinema Experience
Motherhood Diaries
) Make a den & have a "cinema experience" in there! I made this one over the table, when the kids were stuck in with chicken pox. We got comfy and watched a film together on the iPad. Both kids loved it and played in the den for hours afterwards. – Tina (
Mothergeek
)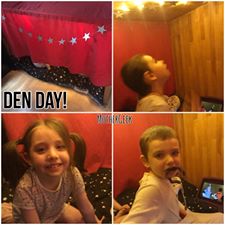 Soft ball bounce rebound. Few things make my son happier than someone getting hit in the face by a ball. Instead of worrying about this, my wife and I have decided to create a rainy day game around it. Here's how it works. Player A (always bubby) stands in the centre of the room. And Player B attempts to bounce a soft plastic ball off the designated 'bounce wall' and into Player A's arms. Very, very occasionally, my son will catch the ball and celebrate vociferously. Occasionally, it'll hit him in the head and he'll laugh maniacally. And regularly, it'll bounce past him and he'll run after it. And, um, that's it. – Stuart ( 3. Soft-ball games
Father-Hood
)
My boys love a picnic in the lounge. I just throw a blanket down and let them have a 'picky' lunch on the floor. They love it! – Jennie ( 4. Indoor Picnic / Midnight Feast
Rice Cakes and Raisins
) We like to make dens out of furniture and blankets and have a "midnight feast". – Erica (
The Incidental Parent
)
We have a big craft box that we save things like empty toilet rolls, foil and other clean/safe recycling as well as coloured paper and glue sticks. On a rainy day the kids dive in and create whatever they like with all the bits and pieces! They particularly love making boats! – Victoria ( 5. Craft Box Fun
Travel Vixta
)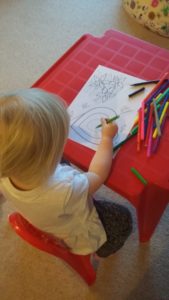 We tend to read, play a lot of Orchard Toys type of games and do a little 'Totschooling'. – Helena ( 6. Educational Fun
The Queen of Collage
) We love to read books. They are great for a rainy day or any day of the week, not just for bedtime. Here's some of our favourites –
10 recommended books for toddlers and preschoolers
. Also on the 'Totschooling' theme is this
fantastic website from Mrs Mactivity
. The brainchild of a former teacher, this website is jam-packed with lots of printable activities that are both fun and educational. Or why not try some family quizzing? You can find lots of
themed quiz questions
online to inspire you!
Sensory play is such an important learning factor for kids. As the name suggests Sensory Play stimulates the senses and plays an important role in a child's development. Sensory play allows children to explore sensations and their surroundings in a natural and fun way, helping them learn without them really knowing it. My Gelli Baff Dinosaur Wash game took 5 minutes to set up and kept my son entertained for almost an hour! It's also perfect for indoor or outdoor play. – Chantele ( 7. Dinosaur Themed Sensory Play
Two Hearts One Roof
)
I know this suggestion causes a lot of discussion but there is a role that screen time can play in the household (in my opinion) – within limits of course! If you're looking for something that has been properly vetted and also has an educational aspect, why not check out something like 8. Sensible Screen Time
Hopster
, Amazon Prime for Kids or good old CBeebies on IPlayer. Hey that reminds me! Tag? Isn't it time for…. Duggee! (When isn't it a good time for Duggee, right?).
We are a huge fan of Lego, and Jo ( 9. Lego & Playmobil
A Rose-Tinted World
) also agrees as she's written about why it is the best toy for all ages. There are hours of fun to be had building lego houses, towers, kingdoms etc. Our current favourite is 'Lego Friends' and then Lego characters such as Batman and 'Fireman Phil'. As well as Lego, we also find that Playmobil keeps us all entertained for hours on end as the possibilities for role-play are endless. It's almost like some of the characters are part of our family now! Does anyone else find that?
Hours of fun. Why not have a play doh cafe where your child can make various items for you to eat? We often combine this with till play where Little C can price things up and scan them at the till too. 10. Play Doh & Kinetic Sand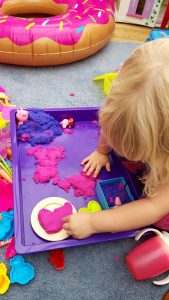 Create a masterpiece with your favourite colours! But also, instead of the usual paintbrushes, it is sometimes fun to get out other objects to paint with – current favourites of ours are the peppa pig toys (that make paint footprints) and also using potatoes to make different prints. There are lots of ideas for painting with different tools over at ' 11. Painting
Hands on as we grow
' if you need some further inspiration!
Get children to rehearse and perform a little play. If they are older they could write a script too. For younger children, reading a familiar and much-loved story and then acting it out works best. Favourites for this include The Gruffalo and We're Going on a Bear Hunt. You could even provide (or make) props and costumes. This is also a brilliant one to get ready for the parent coming home form work, or visiting grandparents descending in the afternoon. If there is a true performance to come, children can get really motivated. – Leta ( 12. Acting
Attachment Mummy
)
I've put together 26 food-based activities (one for each letter of the alphabet) you can try with your child on a rainy day, or when boredom strikes! That's almost a month of activities, folks:) WARNING: THERE WILL BE MESS!" (Note: Tales from Mamaville's ideas are great and include those such as eggshell craft, a lentiloscope and potato heads!) – Nicola ( 13. Alphabet & Food Fun
Tales from Mamaville
)
Girls (especially) love taking care of their hair. You can find time and play the salon activity with your kids. Let them be your hairdresser once in a while. Those that have daughters will understand what it means to get them ready for school. During such creative fun activities, you can teach them how to do easy hairstyles by themselves. It won't be only fun but will save you time when the need arises. – Yvette ( 14. Salon Play
Uplifting and Inspiring Content
)
As you know, children need to burn energy and sometimes we really feel this need when we're stuck inside and not running it off down the park / riding on bikes and scooters etc. So, when we need a burst of energy we have a disco. We stick on a playlist of 'action' songs from YouTube and dance together across the room. Great for burning off energy and also for bonding together. Who knows, you might even be able to stick a bit of *YOUR* music on too! Win win. Little C is becoming quite a little fan of ABBA these days! 15. DISCO!
15 ideas of indoor activities you can try when you're stuck inside. If the cabin fever is too great and you want to get out and about and you live around the areas below, why not try visiting the following? So there you have it…
Berkshire/Buckinghamshire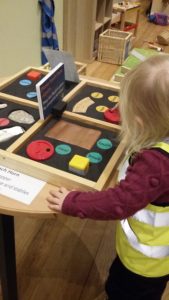 Yorkshire
Warwickshire
We hope you've found our ideas useful, but we'd love to hear yours too. What's your favourite indoor play idea? Let us know by using the comments box below or by joining in the conversation on our What's your favourite indoor play idea?
Facebook
,
Twitter
and
Instagram
pages. Have fun!